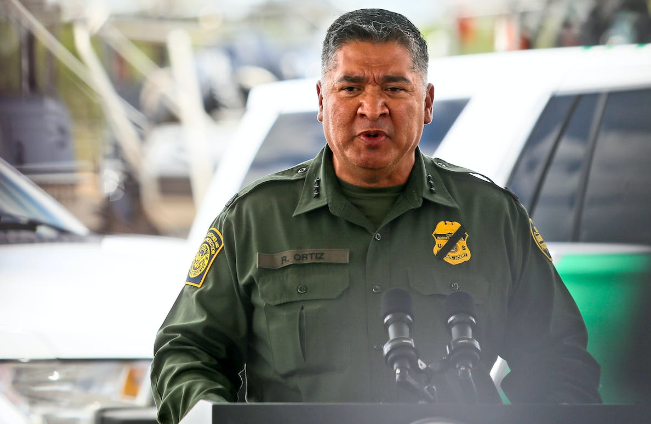 US Border Patrol Chief Raul Ortiz has declared his intention to retire this week amid ongoing concerns regarding the surge of migrants following the conclusion of Title 42. Ortiz, who supervised a team of approximately 20,000 Border Patrol agents during his tenure of less than two years, stated in a letter to his colleagues on Tuesday that he will officially step down on June 30th.
"I leave at ease, knowing we have a tremendous uniformed and professional workforce, strong relationships with our union partners, and outstanding leaders who will continue to tirelessly advocate for you each day," Ortiz stated.
During his relatively short tenure as the leader of the law enforcement division of the US Customs and Border Protection, Raul Ortiz supervised significant policy changes related to the COVID-19 pandemic and implemented emergency health restrictions under Title 42.
Following the expiration of Title 42 earlier this month, Ortiz played a pivotal role in the reintroduction of Title 8, an immigration law that had been in effect for several decades. This law had a significant impact on approximately 60% of undocumented immigrants who entered the United States in 2023.
Prior to the implementation of the new regulations, Ortiz faced criticism when a leaked directive revealed that he instructed border agents to release large numbers of migrants without assigning court dates or implementing any mechanisms to track their whereabouts within the country.
Following the expiration of Title 42 on May 11, the situation at the US-Mexico border remained relatively calm, resulting in a decrease in encounters between migrants and border agents. Many prospective asylum seekers took their time to consider their options before making any decisions.
Nonetheless, Ortiz's retirement occurs amidst an ongoing controversy surrounding the ability of US cities to accommodate the new arrivals who manage to cross the border. Additionally, there are concerns about the dangerous methods some desperate asylum seekers resort to in order to make their way across the border.
Recent reports have indicated that drug cartels are offering to transport migrants to the border for a fee of $200 each. However, those who are unable to pay the fee risk being coerced into the drug trade or suffering severe consequences such as having their fingers severed.
A distressing video recently surfaced, showing a smuggler dropping a 4-year-old boy from the top of a 30-foot border wall in San Diego.
Ortiz strongly condemned the footage on Twitter and cautioned the public against placing trust in smugglers.
Ortiz assumed the position of Border Patrol Chief in August 2021, succeeding Rodney Scott, who was a vocal advocate of controversial policies associated with the Trump administration, including the discussion surrounding the construction of the Mexican border wall.
During Scott's tenure, the Border Patrol faced significant public scrutiny for the separation of migrant families. While Ortiz's leadership was somewhat less controversial, it still drew criticism for allegations of excessive use of force by agents against asylum seekers who posed no immediate threat.
In a congressional committee hearing in March, Ortiz was compelled to acknowledge that the Border Patrol did not exercise complete operational control over the entire border. Approximately a year earlier, a leaked video showed Ortiz expressing that agent morale was at an all-time low.
However, on Tuesday, Homeland Security Secretary Alejandro Mayorkas praised Ortiz as a decisive leader.