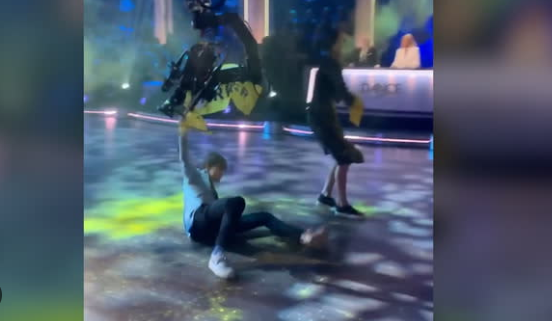 A cameraman with quick reflexes successfully rescued the highly anticipated championship round of Sweden's adaptation of Strictly Come Dancing, as it was disrupted by environmental activists during a live performance.
Amidst the performance, Olympic skier Charlotte Kalla and her professional dance partner Tivuas Jarkssib were energetically executing the Paso Doble, a lively Latin ballroom dance, when the unexpected occurrence unfolded.
Members of the environmental organization Restore Wetlands, who were climate activists, abruptly stormed the stage, brandishing powder paint and a banner advocating for the restoration of wetlands.
In a captivating and fleeting moment captured on television, the male protester carrying the banner was swiftly knocked down by a camera mounted on a crane. The camera swung towards him, causing him to be forcefully propelled away.
JUST IN: Camera man takes out Climate activists who stormed the stage during live broadcast at Sweden's "Dancing with the Stars" finale..

pic.twitter.com/HpKQWadHVL

— Chuck Callesto (@ChuckCallesto) May 28, 2023
Subsequently, the stewards present on the set promptly escorted the entire group off the dancefloor.
The daring act was documented from multiple perspectives, including a video recorded by the activists themselves.
The individual responsible for releasing paint on the stage was identified as Tina Kronberg Berggren, a 30-year-old activist who has previously been involved with Extinction Rebellion campaigns.
According to information from the Daily Mail, the activists issued a statement translated from Swedish, in which Berggren conveyed that their intention was simply to enjoy themselves. However, due to the urgent and critical state of the climate, they felt compelled to take action.
"The situation is so urgent and we cannot sit in the audience and just watch when our lives are threatened by climate collapse," she stated.
Despite the disruption caused by the commotion, Kalla remained composed and continued her performance without missing a beat. However, she ultimately secured the runner-up position in the contest on Friday night, as YouTuber Hampus Hedstrom emerged as the winner.
During the Melodifestivalen, Eurovision champion Loreen was in the midst of performing her winning song "Tattoo" when an activist unexpectedly rushed onto the stage, interrupting her performance.
As a result, Loreen had to restart her song, but she displayed understanding and acceptance towards the incident. In an interview with the Norway Posts, she expressed her empathy, mentioning that she "understood" the intentions of the activist.
Loreen further highlighted the importance of individuals standing up for their beliefs and having the courage to express their opinions openly.