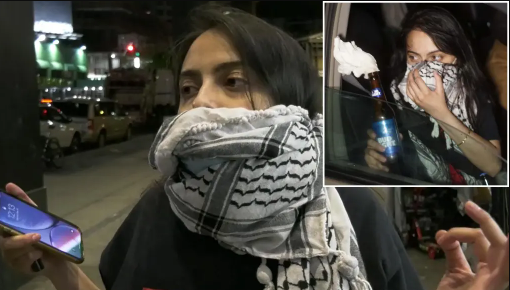 You might remember the tale of Urooj Rahman and Colinford Mattis, two young New York attorneys who participated in a firebomb attack on an NYPD van on May 30, 2020, during the BLM riots in New York City. The case was peculiar because, perhaps because of their privileged ties, instead of receiving criticism for their behavior, they appeared to receive positive press from left-wing media.
The accused enjoy widespread support and sympathy from New York's legal and media elites. Rahman is represented by one of the city's best defense attorneys, and a former Obama administration official guaranteed her bail in the amount of $250,000. Both have been the subject of favorable profiles in New York magazine and NPR, among other venues.
Yahoo News even ran a false story claiming they faced "45 years for vandalism."
Rahman was sentenced on Friday.
Both of them first entered guilty pleas in 2020, when they each faced a potential ten-year sentence with a terrorist enhancement. But the Biden DOJ then stepped in.
In mid-May, the same career DOJ prosecutors who argued for that 10-year sentence were back in court withdrawing their plea deal and entering a new one that allowed the defendants to cop to the lesser charge of conspiracy. It tosses out the terrorism enhancement entirely.
The maximum sentence they might receive under the new accusation was merely five years. Based on the "history and personal qualities" of the defendant in Urooj Rahman's case, the Biden DOJ only suggested an 18–24 month sentence. Even so, she received a sentence on Friday that was ultimately just 15 months in length, followed by two years of supervised release.
"History and individual traits."
In addition to participating in the firebomb attack, a witness claimed that Rahman was also attempting to distribute other contraptions to others. On the day of the incident, she stated in an interview that "violence is the only way they hear us." Unless we "f**king pull it all down," it won't ever stop.
#SeaonOfDarkness #buzzfeed

'The only way they hear us is through violence'

-Urooj Rahman pic.twitter.com/CgOEuNNMVh

— The Daily Sneed™🕗 (@Tr00peRR) September 17, 2020
She even "announced with a smiley face emoji that her rock had struck a police officer," according to prosecutors.
Her attorneys claimed that she should get a lighter sentence because of her "commitment to social justice" and she said she had "unprocessed trauma" from being a Muslim after 9/11.
What Do You Think?