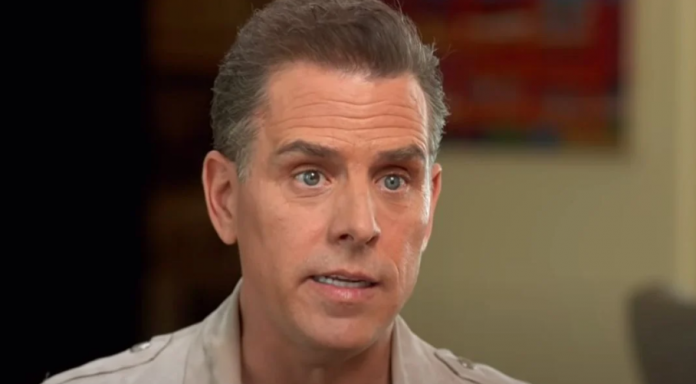 According to court documents, a judge in Arkansas named Holly Meyer has issued a warning that Hunter Biden could face imprisonment if he fails to appear in court and address inquiries about his finances and other matters in a child support lawsuit involving his four-year-old daughter.
The judge's order, issued on Monday, directs Biden to attend a court session in Batesville, Arkansas next month. During the session, he is expected to be questioned by Clint Lancaster, the attorney representing his daughter's mother, and provide his bank statements from 2013.
The court papers reveal that Lunden Roberts, the mother of Biden's daughter, has accused him of disregarding the judge's order to respond to her inquiries pertaining to the support lawsuit. She specifically requested his bank statements as part of the legal proceedings. Additionally, Roberts has alleged that Biden has been living a luxurious lifestyle and has misrepresented his income and financial situation.
Hunter Biden is required to make an appearance at Independence County Circuit Court on July 10, where he will be subjected to questioning by Clint Lancaster and will need to provide evidence, including his bank statements.
Failure to comply with this order could result in Biden being held in contempt of court, which carries potential penalties such as imprisonment for up to six months, a fine, a payment of up to $20,000 for Roberts' legal fees, and the dismissal of Biden's requests in the case.
The lawsuit was initiated by Lunden Roberts, a former exotic dancer, in 2019, concerning the issues of paternity and child support for their daughter. Initially denying paternity, Biden later acknowledged it and claims to have paid Roberts over $750,000 in support payments for their child. Biden has requested a reduction in his monthly child support payments of $20,000 and opposes Roberts' petition to change their daughter's last name to Biden.
According to the judge's order, Meyer has directed Biden to appear in court next month to respond to inquiries about his finances and provide any justification, if applicable, as to why he should not be held in contempt. However, there has been no response from Biden's lawyer, Abbe Lowell, or Lancaster, who represents Roberts, to Insider's requests for comment as of Wednesday.