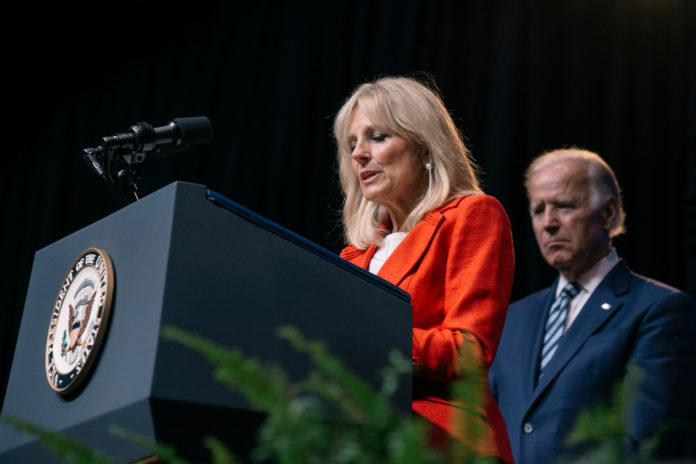 Is Jill Biden America's first female President? It doesn't seem so, however.
She will not only be traveling with Joe Biden to Tokyo to open the Olympic Games, she will also meet high-ranking Japanese officials for talks.
Isn't this something the president does? Jill Biden wasn't elected by the American people. She therefore doesn't have any mandate to negotiate with Japan for anyone but herself.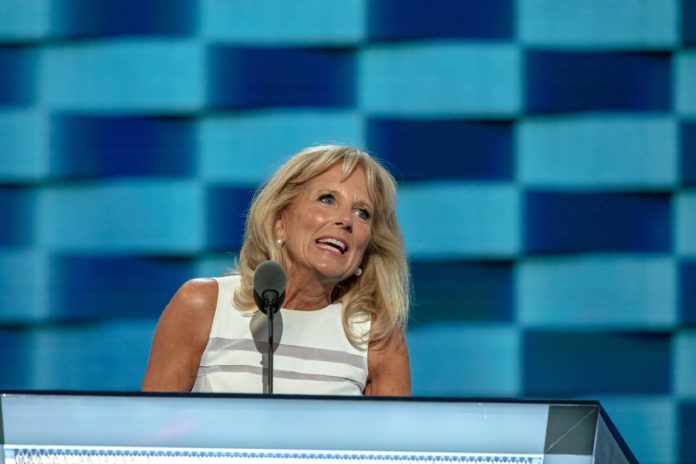 The Solo Trip to Japan
Sunday's Yomiuri Shimbun newspaper reported that First Lady Jill Biden plans a solo trip to Japan to attend the Tokyo Olympics, in place of President Joe Biden.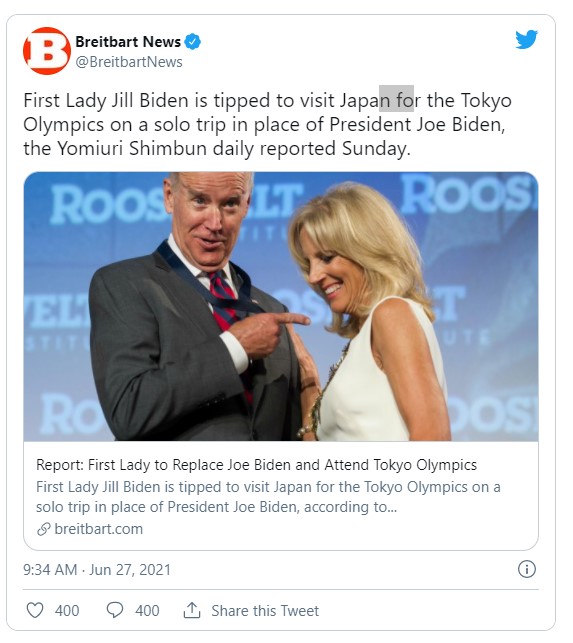 According to the publication, they are developing a plan to allow the first lady of each nation to attend the official opening on July 23rd. There are also plans for Mrs. Biden's meeting with Prime Minister Yoshihide Sug and other high-ranking foreign leaders during the visit.
According to the Yomiuri Shimbun Jill Biden's single visit is considered a significant honor for the host nation and a statement about Japan's relationship.
Japan is an important ally of the United States in Asia. Former President Obama has supported Suga's efforts for the games to be held despite the Chinese virus epidemic.
President Emmanuel Macron of France, whose nation will hold the 2024 Olympic and Paralympic Games in Paris, is also expected to attend.
This isn't the first time the first lady has stepped in for her husband or taken part in his daily political interactions with the public.
According to Breitbart News, she toured the Twin Cities last year during the presidential election campaign, stopping in St. Paul and talking to fans in Minneapolis in favor of her husband's candidacy.
She seems to enjoy the limelight
Jill Biden was happy to make her husband's political stand at her last stop, while she advocated his agenda. She drew what one station described as a small but passionate audience of women called Women for Biden.
In April, she visited a pop-up immunization site for California farmworkers to encourage them to sign up for a mass media coronavirus vaccine scheme.
Dr. Biden, 70 years old, and her husband attended the G7 meeting in Cornwall.
According to reports, she gave Wilfred Johnson, the son of U.K. Prime Minister Boris Johnson, a copy of the children's story that she had written about the president's childhood and his experiences with small children during that trip.
According to the Daily Mail the first lady handed the gift personally to Carrie Johnson, Carrie's mother at one year old, as they walked along the coast in Carbis Bay, Cornwall.
Publishers Weekly says the book is an anecdotal portrait about a man who grew up near Scranton, Pennsylvania. The book focuses on his competitiveness, risk-taking, and role as a peacemaker and brother to his friends.