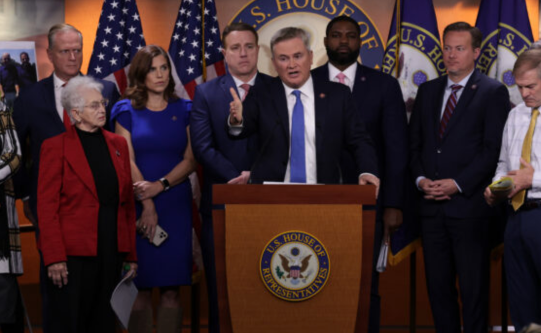 Republicans will look into more than 150 suspicious activity reports that banks submitted regarding Hunter Biden's transactions in an effort to determine whether they are connected to his father, President Joe Biden, according to Rep. James Comer (R-Ky.), who is likely to take over as the next chairman of the House Oversight Committee.
Comer stated that it isn't a "fishing expedition" in an interview with Just the News and noted that the GOP believes Hunter Biden was providing a sizable portion of Joe Biden's living expenses.
According to Comer, the White House will probably push back against efforts by House Republicans to get such financial transactions. The administration has already indicated that it thinks congressional supervision of suspicious activity reports is unnecessary.
"When the White House will inevitably say, 'Well, Joe Biden wasn't benefiting from Hunter's shady business dealings,' there's gonna be a little 'Wait a minute now, who was paying for this, and who was paying for that? How did the President afford this? Who paid for that? And that's why we need the bank records."
On November 17, House Oversight Republicans issued a report summarizing their findings and asserting that they had found proof of federal crimes committed by or for the benefit of the Biden family.
Comer lists these offenses as conspiracy to defraud the United States, wire fraud, failure to register as a foreign agent, failure to comply with the Foreign Corrupt Practices Act, tax evasion, money laundering, and failure to comply with the Trafficking Victims Protection Act.
"One suspicious activity report generated by an American bank to the Treasury Department connects Hunter Biden and his business associates to international human trafficking, among other illegal activities," Comer added.
White House spokesman Ian Sams reacted angrily to House Republicans' earlier this month allegations of a probe, calling them a politically motivated and baseless attack.