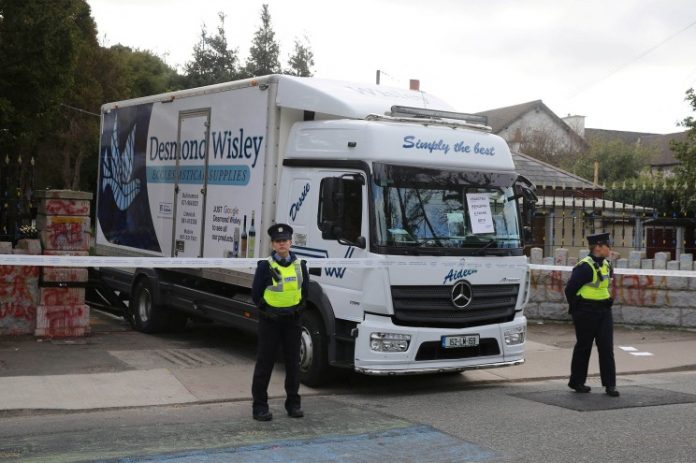 On Monday, an Irish man drove his truck through the gates of the Russian Embassy in Dublin, drawing cheers from bystanders in protest of Moscow's invasion of Ukraine.
According to the Irish Times, Desmond Wisley, a businessman from County Leitrim in northern Ireland, was detained for criminal damage and remained in detention following the event. On Tuesday, he is scheduled to appear in court.
Around 1:30 p.m., video of the incident shows the back of a delivery truck slamming through the front gates of the embassy, prompting yells of Bravo and Good man from protesters carrying posters outside the gates. There were no injuries.
Wisley can be seen exiting the truck and handing out fliers with photographs of Russian atrocities in Ukraine, according to him.
At the scene of an incident in which a truck reversed through the entrance gate to the Russian Embassy in Dublin, a person protests.
Wisley approached a female Garda officer and presented her his flier explaining why he did it.
Initially, the Russian Embassy claimed that Ireland had broken international law by allowing the incident to occur while law police stood by.
In a follow-up statement, the embassy used a more upbeat tone, thanking Irish officials for their support.
On Monday night, law enforcement placed defensive barriers in front of the embassy. Since Russia's invasion of Ukraine 12 days ago, the embassy has been the subject of daily protests.
Protesters have poured red paint at the embassy's entrance and spray-painted messages on the outside such as Nazis, Blood on Your Hands, and F–k Russia.
Filatov accused Irish demonstrators of being abusive and aggressive last week, accusing Ireland of being at the forefront of anti-Russian rallies across the European Union.