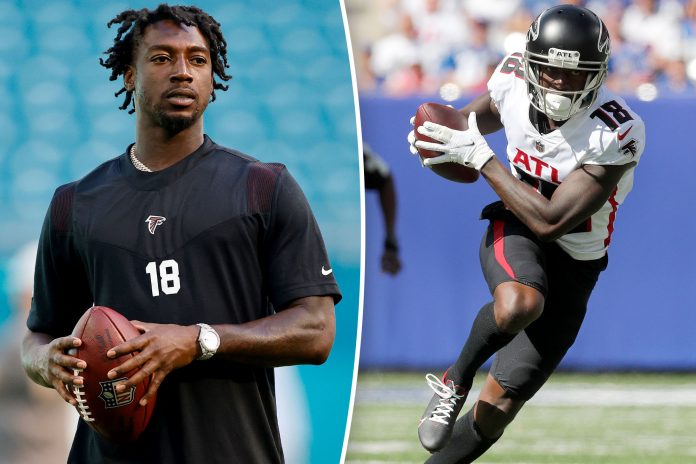 Calvin Ridley, who left the Falcons last season to work on his mental health, has been suspended indefinitely, at least until the end of the 2022 season, for betting on NFL games while not with the team.
The top wide receiver, according to the NFL, placed bets during a five-day period in November while he was not at club facilities.
Ridley, who hasn't played since Oct. 24 in Miami, promised to be in great form when he returns.
Ridley reportedly wagered on Falcons games as well as other sports, according to NFL Network. He used his cell phone to place multiple parlay bets, including predicting the Falcons to win, according to multiple publications. Genius Sports Group, which handles the NFL's data and monitoring and reported the wagers to the league, tracked the service Ridley utilized.
While NFL locker rooms do not have the same prominent signage prohibiting gambling as MLB locker rooms, all players are informed of the regulation at least once a year, during the league-mandated security presentation in each of the 32 training camps. In addition to the training camp presentation, the NFL offers separate seminars for all rookies. The Players Association also has gambling information, and the policy is prominently displayed in the players manual that is provided.
Employees of NFL teams are required to complete annual online training, which includes the gambling policy.
That seemed to be the bare least, but one team stated that its security personnel sends out two more reminders to players during the year. According to another team, it also ensures that select players receive several exposures each year.
According to the league's player's rulebook, which was shared with Pro Football Talk, the NFL's gambling ban encompasses games, practices, and other events and prohibits wagering on results, statistics, score, individual performance, and prop bets. It further states that all team members, with the exception of players, are barred from betting on both professional and college sports, as well as international contests such as the Olympics.
It makes no difference whether sports betting is allowed or prohibited in a specific state, according to a league official.