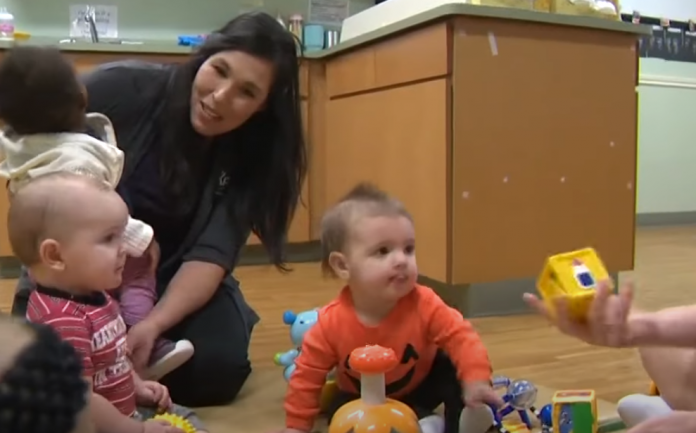 Over 200 childcare facilities and early learning providers in 27 states and Washington, D.C. have announced that they would close their doors on Monday as their employees, who are joined by the parents they serve, go on strike.
According to USA Today, more than 40 events are scheduled for Monday at various state capitals or city halls, and nearly 400 early childcare professionals have pledged to call out as part of "A Day Without Child Care: A National Day of Action." If parents are unable to attend in person, organizers ask them to show support by wearing to work pins with statements like "I wouldn't be here today without childcare."
The walkout is intended to demonstrate to lawmakers how important childcare employees are to not just families but also the US economy.
The website of Community Change Action outlines three objectives: livable wages for child care providers, a racially equal child care system, and affordable child care for all families.
Few providers make a profit, and many are in the negative, according to rally organizers, who are seeking improved salaries and subsidies throughout the industry.
There is also a personnel shortage in the childcare profession, since demand far outnumbers supply, and employees are typically paid poverty rates with insufficient benefits. The typical hourly income is $13.22, and the majority of childcare providers are women, with a disproportionate number of women of color.
At the outset of the pandemic, lawmakers on both sides of the aisle recognized the importance of childcare, but that recognition has faded following the failure of the Biden administration's Build Back Better plan, which proposed federal investments in childcare and pre-K to, among other things, set a cap on the amount families pay for services and establish minimum wage requirements for workers, according to Wendoly Marte, a community organizer in New York City behind the national initiative.
She also said that Congress eliminated the child tax credit, which Democrats want to reinstate.
According to a poll conducted this summer, four out of every five childcare centers in the United States are understaffed, and that figure is expected to rise as workers migrate to lower-stress, higher-paying warehouse or chain restaurant positions.
Meanwhile, many of the women who run daycare facilities are moms who have struggled to find affordable childcare, have received degrees in early education, and fight to retain their status as high-quality providers by adhering to tight licensing standards.
Organizers also point out that since congressional COVID aid expired, millions of children have slipped into poverty, and that working moms now need dependable childcare more than ever.