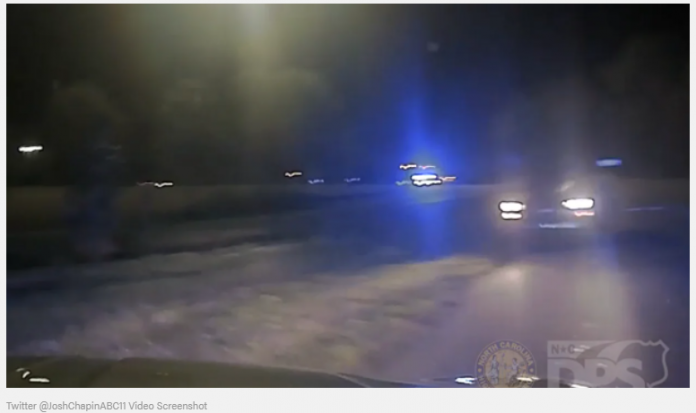 A trooper with the North Carolina State Highway Patrol is being hailed as a hero after risking his life to stop a suspected intoxicated motorist. The state trooper's heroic and unselfish acts may have saved lives.
Several police officers were pursuing a driver accused of driving while drunk in the early morning hours of April 8. Trooper Cody Thao of the North Carolina State Highway Patrol joined the attempt to stop an accused intoxicated driver in order to protect innocent individuals from harm or death.
Joshua Ray Bibey, the suspect, was racing up an exit ramp in the incorrect direction. Thao was exiting the highway in the proper direction.
We're taking you through this wild video put out today by @NCSHP tonight with the trooper whose action saved lives.
Cody Thao: "All the credit goes out to the other troopers who inspire me on a daily basis especially here in Wake County" #abc11 #ncshp pic.twitter.com/PRwF9TwauE

— Josh Chapin (@JoshChapinABC11) May 5, 2022
Thao unselfishly and gallantly moved his police car towards the oncoming automobile with barely seconds to make a decision. The 26-year-old suspect's vehicle – which looks to be a pickup truck – crashed hard with Thao's patrol cruiser. In Wake County, police dashcam footage shows Thao's cruiser spinning off the road after colliding with the car.
Thao purposefully collided with the DUI suspect, knowing he was driving toward the interstate exit, where other automobiles may have been departing.
Raleigh resident Bibey was detained and accused with driving while intoxicated.
Colonel Freddy L. Johnson, Jr., head of the North Carolina State Highway Patrol, stated in a statement, "I could not be prouder of Trp. Thao and his quick decision to stop the wrong-way driver, his actions most undoubtedly saved lives," "His willingness to put himself in harm's way is representative of the lifesaving work our members do each day. Placing others before ourselves is not just a saying amongst the law enforcement profession, it's a reality of what we do for the betterment of the communities we serve."
Thao has spent less than a year with the North Carolina State Highway Patrol.
In March, a Florida state trooper placed herself in danger by purposefully guiding her police car into an approaching driver who was apparently inebriated.