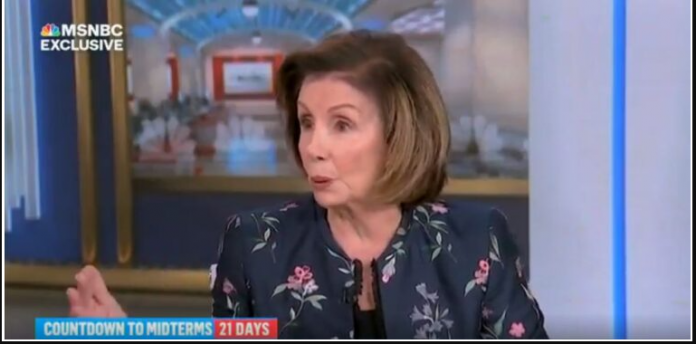 Americans who are understandably concerned about widespread crime, skyrocketing prices, and mounting evidence that the nation is entering a deep recession continue to view the Democratic Party as tone-deaf and out-of-touch.
Speaker Nancy Pelosi significantly worsened this developing impression in an interview with MSNBC's Andrea Mitchell on Tuesday.
"So let's talk about rising inflation concerns along with crime, giving momentum, new momentum to Republicans after the Democrats were closing the gap, the historic gap," Mitchell opened.
"So after the Supreme Court ruling, there was huge outrage, that has seemed to subside, at least among overriding concerns, despite all the legislative accomplishments, and I want to cite them.I want to, you know, say it's been an extraordinary session. You and the President have done so much in terms of domestic concerns, the economy.So why is this message, why do you think the president has gotten this message through the voters?" Mitchell questioned.
Pelosi answered, "Well, first of all let me say that I think that much of what you've said, I don't agree with, is to say the New York Times poll, I think is an outlier pol."
In reality, Nancy Pelosi is downplaying American worries about spiraling inflation that is affecting their ability to make ends meet and escalating crime that is wreaking havoc on inner cities and endangering public safety.
According to the polls Pelosi dismisses, the Republicans are likely to make significant gains in the next midterm elections.
As per The New York Times, "We have the result of our third New York Times/Siena College national survey of the midterm cycle to go with your coffee this morning: 49 percent of voters say they back the Republican congressional candidate in their district, compared with 45 percent backing the Democratic one."
In polls asking respondents whether they favor Democrats or Republicans for Congress, Democrats have so far maintained a slim lead, but there have also been red flags for the party in these surveys. Many reliable polls, like those from ABC/Washington Post, CBS/YouGov, and Monmouth University, show that Republicans are in the lead. The Times/Siena survey today adds a fourth survey of this type to the list.