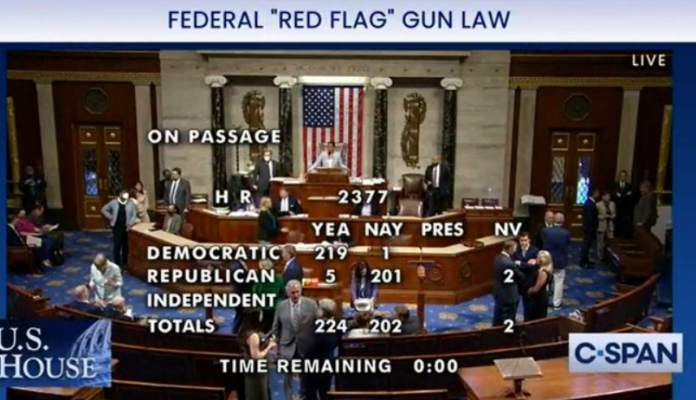 On Thursday, the House of Representatives approved legislation allowing US judges to remove weapons from those deemed a risk to themselves or others.
The Federal Extreme Risk Protection Order Act was approved by a vote of 224 to 202, with five Republicans voting in support of the bill. The law also allows courts to prohibit anyone from obtaining weapons in the same situation.
Family members and police officials can also seek judges to impose the limits if they can show that they are in danger. Judges can impose a 14-day or 180-day weapons possession or purchase prohibition.
In the weeks since 19 children and two teachers were slain at an elementary school in Uvalde, Texas, Republicans and Democrats in Congress have engaged in yet another heated argument over how to avoid mass shootings.
NEW: the House just passed the Federal Extreme Risk Protection Order Act, creating a federal "red flag" law. It would also give guidance and grants to encourage states and localities to create, fund, and successfully implement red flag laws.

I voted YES; this was the vote: pic.twitter.com/ewhByq1lmh

— Rep. Don Beyer (@RepDonBeyer) June 9, 2022
Republicans have rebuffed Democratic demands for broad gun control measures including mass confiscations and severe controls. Due to the gridlock in the Senate, Democrats are unlikely to move forward with such legislation.
Last Monday, Sen. Chris Murphy, D-CT, a key Democratic voice on gun regulation, urged President Joe Biden to remain out of the talks, saying Congress should handle it on its own.
He went on to say that if Republicans agree to enact serious legislation, Democrats will be prepared to compromise.
"We're not going to put a piece of legislation on the table that will ban assault weapons or pass comprehensive background checks. Right now, people in this country want us to make progress, they just don't want the status quo to continue for another 30 years," Murphy stated in an interview.