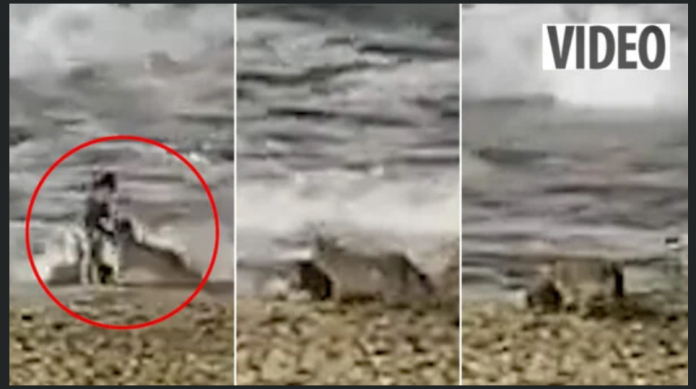 A terrifying video captures the moment a young child was attacked by a coyote while on the beach with her family.
On April 28, the beast assaulted the toddler in Huntington Beach, California.
The footage shows a coyote sprinting towards the toddler, who is believed to be two or three years old.
The event occurred as a woman and her two children were playing on the beach on Thursday night.
As soon as the youngster approaches the animal, it leaps on her, knocking her to the ground and biting her in the face.
A witness stated, "There was blood all over her face,"
Cops went to the location after receiving reports of an incident north of the pier.
"The child was transported to a local hospital with serious but non-life-threatening injuried." cops stated in a statement.
Cops shot two coyotes later that night after attempting to apprehend them.
Although they both managed to flee, one of the coyotes was discovered dead this morning.
The victim has not been recognized, and because she is a juvenile, authorities would not provide any other information.
Local residents said they are not surprised that this happened.
"I've been here 40 year, and this year's been the worst," one woman told of coyote sightings.
Another lady informed reporters about a certain coyote that hangs near a children's playground and stated, "It's really not afraid of us at all,"
Throughout the last few weeks, cops have been catching coyotes all over the city, according to cops.