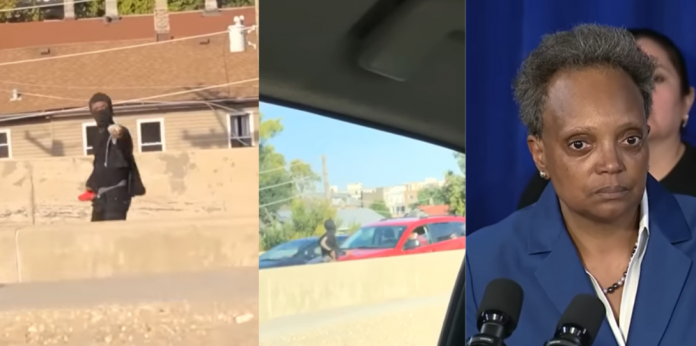 Mayor Lori Lightfoot of Chicago is no longer in charge of the city. The worst mayor in America publishes embarrassing TkTok videos, but crime is rife in that great American city. The most recent scandal was a carjacking on a busy highway in the middle of the city.
The footage of the crime that went viral on social media was recorded by a commuter. Three persons can be seen leaving a car following an accident in the footage down below. One is carrying a huge weapon and trying to carjack passing automobiles as they search for an exit as they walk along the highway.
The carjacker appears to offer the man filming the footage a clutch of cash in return for a trip. The commuting passenger declines him, and the armed thug drives off after carrying out his carjacking.
For Lightfoot, things only get worse. In Chicago over the weekend, at least 31 individuals were shot, eight of whom died.
On Friday night, a North Side park playground saw the shooting death of a 13-year-old kid, according to Chicago authorities.
Before 10:00 p.m., there was a shooting. near Lerner Park in the 7000-block of North Sacramento Avenue in the West Ridge area, according to police.
A man is carjacked on the Dan Ryan expressway at rifle point near the 18th St exit in #Chicago pic.twitter.com/Yxvy3vIReP

— 16th & 17th District Chicago Police Scanner (@CPD1617Scanner) October 15, 2022
Witnesses reported hearing a loud pop and seeing numerous individuals flee. An adult male victim with a head wound was discovered by police sitting on a park bench.
He passed away after being brought to St. Francis Hospital in a severe condition. He was recognized by the medical examiner's office as Lavel Winslow. There is no information on any arrests as police are looking for the shooter.
A few hours later, according to Chicago police, a 17-year-old kid was shot and murdered in Back of the Yards early on Saturday morning. Just after midnight, a witness heard several gunshots in the 700-block of West 50th Street and discovered the teenager lifeless.
Later, his death was confirmed. Detectives from Area One are looking into the case, and no one is in custody. The police withheld additional information.
The victim was then struck in the chest by the suspect. He was brought to the Advocate Illinois Masonic Medical Center, where doctors declared him dead, according to the police.