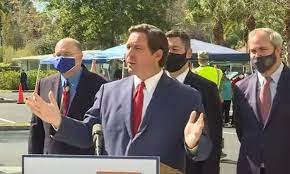 Ever since "Defund the Police" became a trend in the country, criminality experienced a skyrocket in rate and unfortunately, the law enforcers themselves are among the top victims. Our streets have turned into a war zone wherein even the police aren't safe anymore. Shootings, rape, murder, looting, the devastation has gotten much harder to stop.
Luckily, the American public still has a voice in the local government, especially the GOP-led states that have decided to act upon the matter and empower the courageous men and women in blue who have sworn to protect us all.
Recently, Florida governor Ron DeSantis encouraged officers all over the nation to come to the Sunshine State where they can serve the people and be appreciated for what they do.
"I do think you will see; I think you've already seen. But there are people in these police departments in various other parts of the country who, if they can get a job in Florida, they want to come to Florida to be able to do it. Because the culture is better, and they understand they're going to be supported much more resolutely than what they do," DeSantis stated.
"Make no mistake: the reason that you have such huge spikes in crime in many parts of the country is because of not standing up for law enforcement, having weak policies where you're letting people out, and you're not prosecuting people who are committing habitual offenses. That is clearly causing disastrous consequences," DeSantis added.
DeSantis is well-known for supporting our law enforcers and this message from him is not just all talk. He has fought against police defunding and also ordered the honoring of the recently fallen Tampa Bay law enforcement officers. Members of the police force deserve respect for putting themselves in harm's way just to ensure the security of the citizens of America. Florida has proven itself to be more accepting of the police and they are free to seek employment in the state, if they wish.
"We're happy to be supportive of law enforcement. We should look (at) what do we need to do. I know we've done some stuff with the [Department of] Corrections to try to make that more of a valuable enterprise. The pay is not great. We've done some stuff to try to increase that," DeSantis said.
"If you have a chance to do law enforcement in Florida versus some of these other jurisdictions you're much better off in Florida because we'll actually stand by law enforcement," DeSantis added.