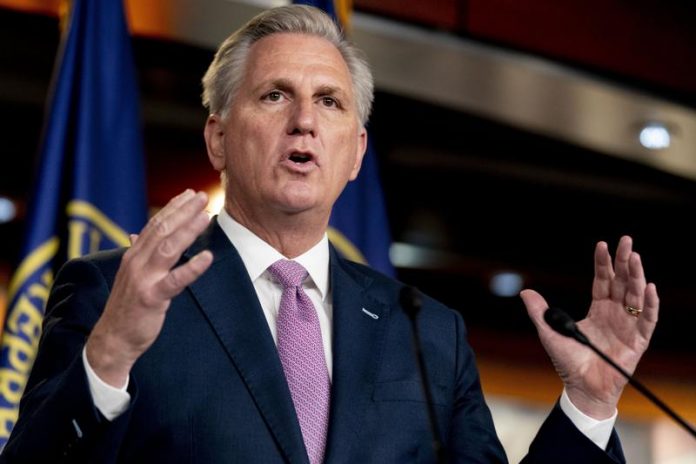 During an interview Tuesday with Fox News, House Minority Leader Kevin McCarthy pledged to strip Rep. Ilhan Omar (D-MN) of her committee place if the GOP wins back the House next election cycle.
House Minority Leader Kevin McCarthy goes after Rep. Ilhan Omar (D-MN):

"I will promise you this: If we are fortunate enough to have the majority, Omar would not be serving on Foreign Affairs [Committee] or anybody that has an anti-semitic, anti-American view." pic.twitter.com/aLUGsJfW2t

— The Recount (@therecount) June 15, 2021
The remarks from McCarthy came in response to House Speaker Nancy Pelosi's (D-CA) inaction against Omar for her persistent anti-Semitic and anti-American remarks.
Last week, Omar compared the United States to revolutionary terror groups such as Hamas, Afghanistan and the Taliban, saying we've committed the same"atrocities."
Check it out:
After receiving harsh backlash for her remarks, Omar issued a"clarification" where she claimed that she wasn't attempting to draw a"moral comparison between Hamas and the Taliban and the U.S. and Israel."
Pelosi then stepped in and commended Omar for her clarification, announcing that no additional discipline would be critical.
The Daily Wire reported:
Pelosi and fellow House Democrats, including Majority Leader Rep. Steny Hoyer (D-MD) and Majority Whip Rep. James Clyburn (D-SC), issued their own statement in appreciation of Omar's "clarification."
Not all House Democrats were satisfied however. Last Wednesday evening, a dozen Democrats released a statement beating Omar for her disgusting remarks.