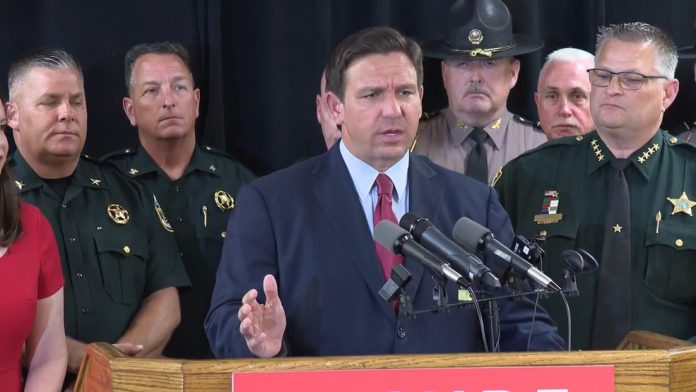 Florida will send its own law enforcement officers into the U.S.-Mexico boundary to aid national, state, and local authorities responding to the boundary crisis in Arizona and Texas, where the governors have asked any other state to send in reinforcements.
"We are the first state to commit support for this effort in response to the request that was submitted by the governors of Texas and Arizona, and we're proud to lead, yet again, on issues that matter to Floridians," Republican Gov. Ron DeSantis announced Wednesday afternoon.
Officers from the Florida Highway Patrol, Florida Department of Law Enforcement, Florida Fish and Wildlife Conservation Commission, Brevard County Sheriff's Office, Escambia County Sheriff's Office, Hillsborough County Sheriff's Office, Holmes County Sheriff's Office, Lee County Sheriff's Office, Okaloosa County Sheriff's Office, Pasco County Sheriff's Office, Santa Rosa County Sheriff's Office, and Walton County Sheriff's Office will head about 1,000 kilometers west to the southern boundary. The Florida Division of Emergency Management will oversee the deployments.
"You have a governor who is saying we'll step up to protect Floridians. This is what real leadership looks like. Leadership is not sending someone down there to beg people not to come," Florida Attorney General Ashley Moody said in the press conference, referring to Vice President Kamala Harris's previous statements telling migrants to not go to the border.
"When you have chaos versus order, crime versus safety, you develop strategic enforcement actions, and you bring peace and protection to your people. That's what a leader does," said Moody. "In these short few months that this administration has been in charge, we have seen a 230% increase in fentanyl seizures, enough to kill almost half of the American population. We have seen over a 3,000% increase in sexual offenders being detained at the border. As a mother, as a former prosecutor and judge, that infuriates me and terrifies me."
DeSantis said the northern area of Florida has been hit hard by a methamphetamine crisis that has grown worse over the last six months because of the Biden government's rescinding of Trump-era border policies.
"If you go back 10-20 years ago, you find these places where they'd be cooking this stuff up locally," said DeSantis. "That's not what's happening now. It's almost all coming across the southern border, and it's been accelerating for the last six months, and its steepening the problems that we're having in terms of getting a handle on this in our own communities here in the state of Florida."
Republican Govs. Greg Abbott of Texas and Doug Ducey of Arizona predicted last week on governors in the other 48 states to patrol the border or risk seeing the effects of continued high illegal migration spill over into non-border states.
"Given the staggering number of violations now occurring in Texas and Arizona, additional manpower is needed from any state that can spare it. With your help, we can apprehend more of these perpetrators of state and federal crimes, before they can cause problems in your state," the governors wrote in a letter released late Thursday, noting the dangers posed by drug smugglers and illegal immigrants with criminal histories.
Army, such as state National Guard forces, were left from the petition, as Abbott and Ducey wish to offer active law enforcement officers wider policing authorities. Military on the border can't make arrests and normally function in passive functions, like tracking cameras and manning unfinished parts of the border wall.