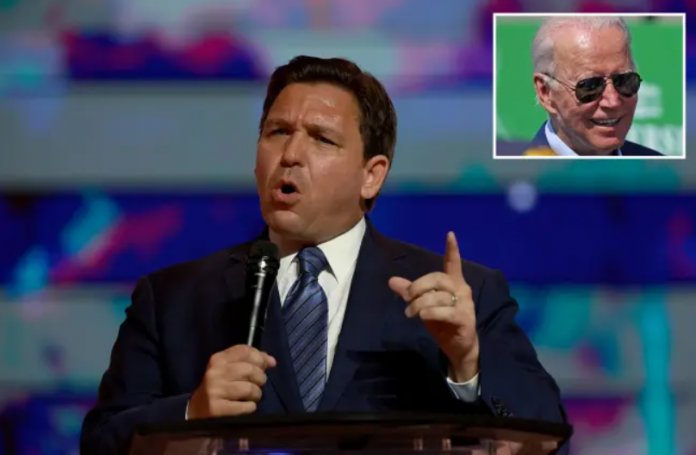 During a speech on Friday night, Florida Governor Ron DeSantis attacked President Joe Biden and wished the United States of America a quick recovery from his term in office.
In his emotional speech at the Turning Point USA Student Action Summit, DeSantis took aim at Biden and compared the vice president to a deer in the headlights who reads off a teleprompter.
The governor of Florida, a leading Republican contender for the White House in 2024, also criticized Biden's stance on energy and immigration issues.
"He came in and cranked the printing presses, kneecapped American energy, and he also opened our southern border. And what we've seen in the last year and a half is the largest illegal migration into this country in the history of the United States of America. We have record human trafficking, we have record sex trafficking, and we have record drug trafficking," according to DeSantis.
"I want to wish Joe Biden a speedy recovery from Covid. And I want to wish America a speedy recover from Joe Biden" – @GovRonDeSantis LIVE at TPUSA SAS 2022 pic.twitter.com/dJXddd4y19

— Malcolm Davis (@MalcolmDavisGA) July 22, 2022
DeSantis also sent the president his best wishes for a quick recovery from COVID-19 along with the scathing comments.
The governor of the Sunshine State also praised his state's COVID-19 reaction as well as the several anti-"woke ideology" measures he implemented, including as the "Don't Say Gay" statute that forbids discussion of sexual orientation and gender identity in schools and the prohibition on critical race theory.
According to the Navy veteran, awakened culture has spread so far as to enter the armed forces.
They are more likely to discuss pronouns than fighting battles, according to DeSantis.