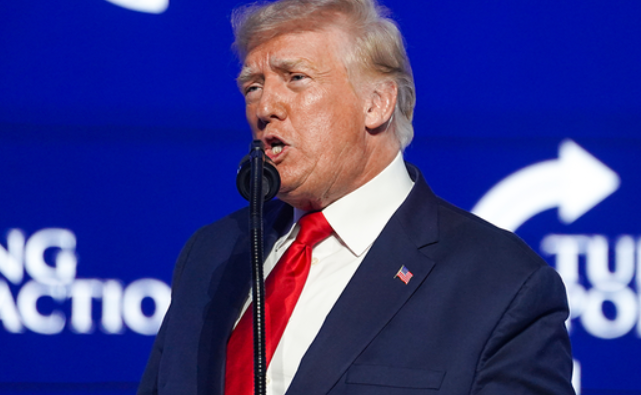 In a speech Saturday packed with rhetoric from the cultural war and jabs at his political foes, including President Joe Biden, the January 6 Committee, and others, former President Donald Trump made a hint that he would run for president in 2024.
On the second day of the Turning Point USA Student Action Summit, the speech served as the keynote. Florida Governor Ron DeSantis, who is regarded with Trump as one of the leading prospective GOP candidates for the year 2024, spoke after Trump on Friday night.
Trump claimed victory in the 2016 election, falsely claimed victory in the 2020 election, and hinted that he would seek for office again in 2024 on Saturday.
Later in the address, Trump said,
"If I stayed home, if I announced that I was not going to run for office, the persecution of Donald Trump would immediately stop. But that's what they want me to do. And you know what? There's no chance I do that."
The remarks followed Donald Trump Jr.'s earlier evening refusal to rule out the idea that Trump will declare his intention to run for president before November.
School conflicts, such as critical race theory, were among the topics Trump raised in his culture war speeches.
"Across the United States, we need to implement strict prohibitions on teaching inappropriate racial, sexual, and political material to America's children in any form. You would not trust these people to babysit your children for 20 minutes. And why should we then let them educate millions of American students six hours a day, year, after year, after year," he said.
As he recalled instances of biological males triumphing in women's athletic competitions, Trump also disparaged transgender participation in these sports while making impassioned motions and mocking noises.
Trump continued to criticize the Biden administration for requiring military personnel to receive the coronavirus vaccination. He argued that every American patriot who had been dishonorably discharged from the military should be rehired, with an apology and back pay. And he asserted that the right must fight corporate culture wars in a similar manner to how Democrats do.
Among other things, he assailed Rep. Adam Schiff, D-Calif., over claims that Trump collaborated with Russia during the 2016 election and referred to the January 6 Group as an unselect committee of political thugs.
With the inauguration of Biden, Trump said in his closing remarks that his reelection campaign slogan, "Keep America Great," is no longer relevant. But "we will make America great again." Trump asserted.