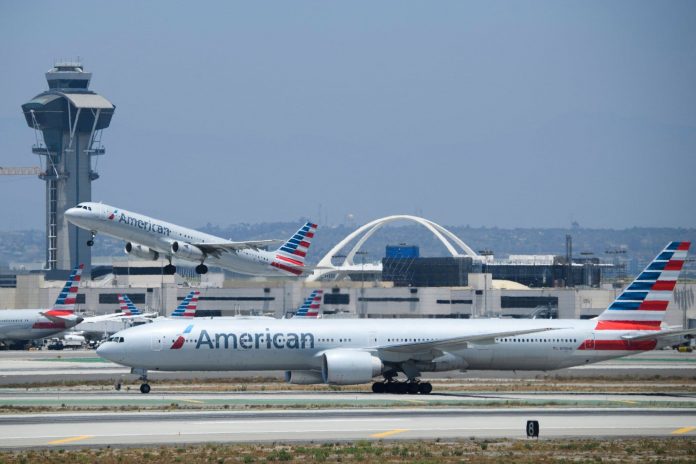 Witnesses reported a disruptive passenger tried to get into the cockpit and then attempted to open an exit door on an American Airlines aircraft from Los Angeles to Washington, D.C. on Sunday afternoon, forcing the plane to make an emergency landing in Kansas City, Mo.
Crew personnel and other passengers subdued the passenger. After the plane landed, he was apprehended.
American Airlines confirmed in a statement that the airplane, American Airlines Flight 1775, landed safely in Kansas City and was welcomed by law enforcement personnel. The passenger was brought into custody after interfering with the flight crew, according to Charles A. Dayoub, an F.B.I. special agent in charge in Kansas City.
Carlos Rojas, 33, was one among the people who stepped forward to help. He claimed he had fallen asleep in a row behind the first-class section when the plane's lights were quickly put back on. When he removed his headphones, he observed a fight between flight attendants and a passenger in the plane's first row. Mr. Rojas, an Air Force reservist, was solicited by a nearby passenger to aid the flight attendants.
Mr. Rojas said the man in the center of the altercation, who appeared to be in his forties, appeared distressed and paranoid. Others had seen the individual pace the aisles earlier in the aircraft, he continued.
After the struggle with the passenger, the plane began descending into Kansas City without notice, according to Mouaz Moustafa, a passenger from Washington.
He claimed the man attempted to enter the cockpit and then depart by the main door before being restrained by numerous passengers.
During the coronavirus pandemic, airline disruptions have increased dramatically, with many of the cases involving passengers who disagree with mask requirements.
More than 1,000 investigations of rowdy passengers were conducted by the Federal Aviation Administration last year, more than in the preceding seven years combined.