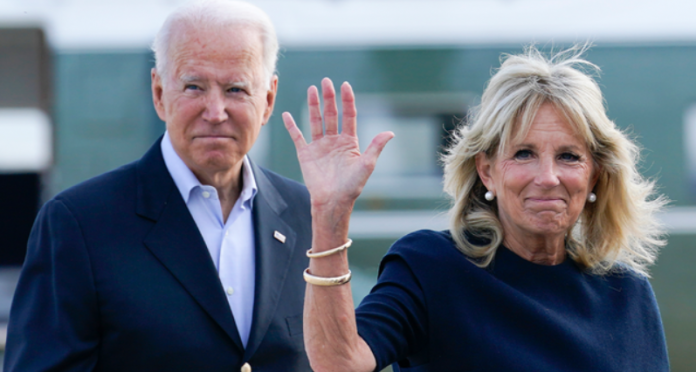 Prior to her keynote address at a Latinx IncluXion Luncheon in San Antonio on Monday, First Lady Jill Biden is receiving jeers from conservative Hispanics.
According to the event website, the luncheon, which is a part of the 2022 UnidosUS Annual Conference, offers the chance to learn about and work together on topics ranging from housing to health, racial equality to education, diversity and inclusion to owning our community's story.
Maybe if we rebrand the Southern Border as SouXern BorderX, Joe Biden will finally visit? https://t.co/xCYrp74gM0

— Cassy Garcia for Congress (@CasandraLGarcia) July 11, 2022
Following Jill Biden's remarks at the Latinx IncluXion Luncheon at 1 PM, a panel discussion titled "A Powerful Case for Equity " with two members of the Biden administration and Republican Governor of Arkansas Asa Hutchinson.
The description of the panel says, "Equity in education is the foundation for equity in every other sector. As the pandemic and the Uvalde massacre have underscored the need for culturally and linguistically competent health responses, the nation's leaders join us to chart the path forward for Latino children and families."
In a statement given to Fox News Digital, Hutchinson said, "It was an honor to spread the conservative message in the Latino community at Unidos in San Antonio today. We discussed border security, the rule of law, and strengthening our education system. I appreciate these hard working leaders who contribute to the American Story,"
More failed Hispanic outreach from Democrats:

📉 Only 2% of Hispanics refer to themselves as Latinx.
📈 40% of Hispanics say Latinx bothers or offends them to some degree. https://t.co/DzCBVN6xx8

— RNC Latinos (@RNCLatinos) July 11, 2022
The office of Jill Biden did not reply to a request for comment from Fox News Digital.
Republican Cassy Garcia, a Hispanic seeking to oust Democratic Rep. Henry Cuellar in Texas, connected Jill Biden's attendance at the event with the border issue, where an unprecedented number of undocumented immigrants are flooding in.
The National Parents and Families Engagement Council was recently established by the Department of Education as a way to find beneficial ways to assist families engage at the local level, the department announced June 14.
What Joe Biden and family think about the Hispanic Community 🙄 https://t.co/pkfJCxHWiX pic.twitter.com/rlo6kCqkud

— Mayra Flores (@MayraFlores2022) July 11, 2022
UnidosUS, which has expressed support for the Black Lives Matter movement, is a member of the council. Parents' rights organizations are suing the council, along with the Education Department and its secretary, Miguel Cardona, on the grounds that the council is politically biased and in violation of federal law.
Jill Biden's attendance at the UnidosUS event coincides with a shift in the party's favor among Hispanic voters, who have historically supported Democrats.