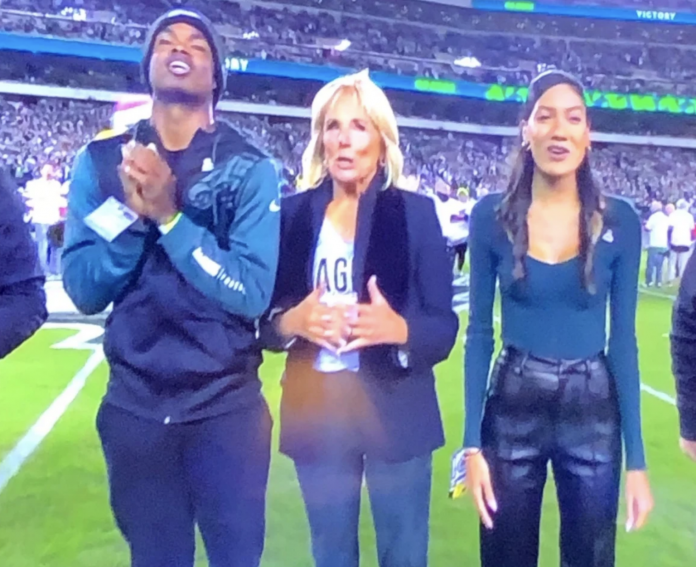 Many spectators who posted after the game mentioned the seemingly loud boos Jill Biden received.
Several spectators reportedly booed loudly US First Lady Jill Biden as she served as an honorary captain for the American football club Philadelphia Eagles on Sunday.
Several spectators at the game tweeted about the alleged harsh jeers Jill Biden endured while traveling with US President Joe Biden.
FLOTUS Dr. Jill Biden gets booed. Being an "Eagles fan" didn't save her #DALvsPHI

— John McMullen (@JFMcMullen) October 17, 2022
At the occasion, Joe Biden talked to Philadelphia 76ers player Joel Embiid while leading the crowd in a version of "Fly Eagles Fly."
According to Fox News, Jill Biden attended the event to support the White House's Cancer Moonshot campaign. Cancer patients, survivors, and their families joined her on the field.
As she participated in the coin toss before to the Eagles vs. Dallas Cowboys game, Biden, who was reared just outside of Philadelphia and openly supports the city's professional sports teams, was booed.
FLOTUS Jill Biden at midfield for coin flip. She gets booed. #Eagles win toss. Defer. Dallas starts with ball.

— Ed Kracz (@kracze) October 17, 2022
The first lady was in attendance to support the Biden administration's Cancer Moonshot effort while simultaneously acting as the Eagles' honorary captain for the game.
As Jill Biden entered the field with cancer patients, survivors, and their families, she was greeted by the Philly Phaithful in the customary manner.
Social media users took notice of the jeering.