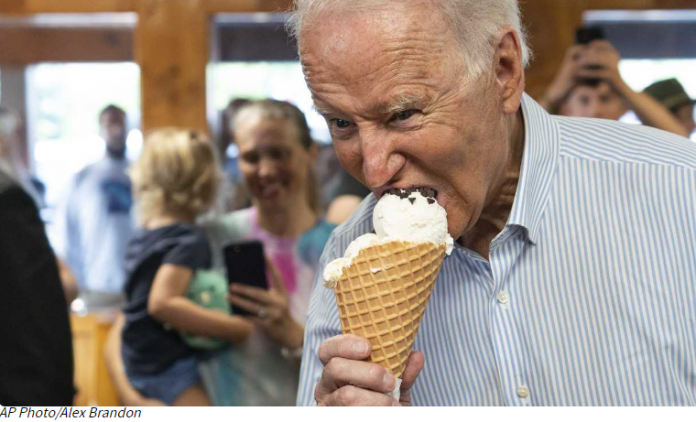 Joe Biden, the president, believes that the US economy is flourishing. The president declared Wednesday while nibbling on ice cream at a Portland Baskin Robbins, adding to the senility of this administration, "The fundamentals couldn't be more robust—strong it's as hell."
There isn't a picture where this person could seem more out of touch. While Democrats in swing districts exhaled sighs of relief that Biden avoided them on the campaign trail, they received a harsh reminder that whatever idiotic words Biden spews are just as harmful to their precarious chances of winning re-election as a White House drop-in.
Biden while eating ice cream: "The economy is strong as hell" pic.twitter.com/xbiZNy5UOG

— End Wokeness (@EndWokeness) October 16, 2022
When you watch the clip, you cannot but notice how tone-deaf it is. Since Biden, despite his public demeanor, is a grumpy, vindictive, furious troll, most people have no question that it is intentional. Although he is a bad man, you have to question his understanding of what he is saying due to his dementia.
Him breezily saying this while eating ice cream is just 🤌 pic.twitter.com/rNExJbyErw

— Guy Benson (@guypbenson) October 16, 2022
Consumer debt has increased to record levels, the economy is in a recession, and over 60% of Americans are living paycheck to paycheck. Inflation is at a 40-year high. It must irritate you to hear some old geezer enjoying ice cream and asserting that the economy is strong.
October 16, 2022
However, this is the White House, which, like Obama, chooses to dismiss negative news or tries to redefine language in order to prevent a catastrophe. A recession is defined as two quarters of economic downturn. However, the Biden White House maintains it is untrue since they stated it was. That talking point swiftly vanished because no one could justify that repulsive example of purposeful government misinformation, not even liberal media figures.