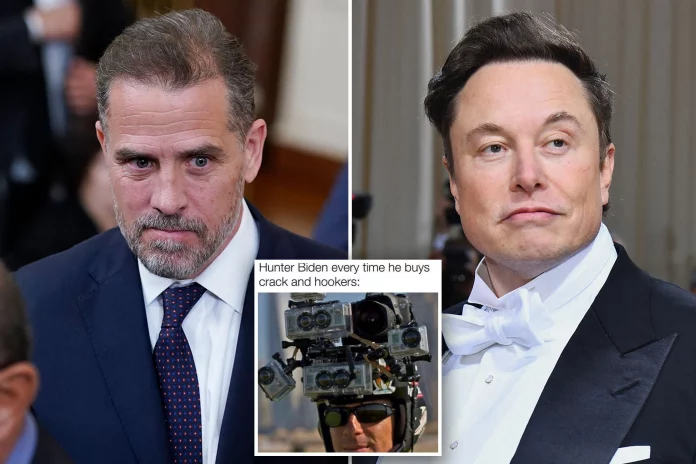 On Wednesday, Elon Musk made fun of Hunter Biden by tweeting a number of jokes about the president's son and his proclivity for immoral activity.
Musk posted a meme with the caption "Hunter Biden every time he buys crack and hookers," showing a guy wearing a helmet with multiple cameras connected to it.
"Gives whole new meaning to Go Pros!" Musk continued.
Ahead of the 2020 presidential election, several news sites reported on the material found on Hunter Biden's laptop. Thousands of emails about the wandering son's international business operations, together with pictures and videos, were stored on the laptop.
A+ for cinematography pic.twitter.com/anGjQKbq5W

— Elon Musk (@elonmusk) July 13, 2022
Hunter Biden has been open about his battle with drug addiction, and several pictures that have emerged have shown him with drugs, sex workers, and even guns.
What caused Musk to criticize Hunter Biden is unknown. But during the past few months, the billionaire and the Biden administration have repeatedly fought.
Musk previously called President Biden "a damp sock puppet in human form" for not include Tesla in his drive for increasing use of electric automobiles.
Officials from the White House have said their icy attitude is caused by the fact that the Tesla facilities aren't unionized.
At least, if Hunter Biden sees an Alien, we will get the sharpest recording that ever was. pic.twitter.com/wzDyLE5P6x

— Pope of Muskanity (@RationalEtienne) July 13, 2022
Musk has had disagreements with other politicians than the Bidens. Musk was referred to as "another bulls-t artist" earlier this week by former president Donald Trump when news of his abandoned plan to acquire Twitter spread.
Trump should not run for president in 2024, according to Musk, who responded that he was "too much drama."
The most recent tweet was sent by Musk amid a busy week on the social media platform. Earlier, he published a meme making fun of Twitter's board of directors after they said they would sue him.