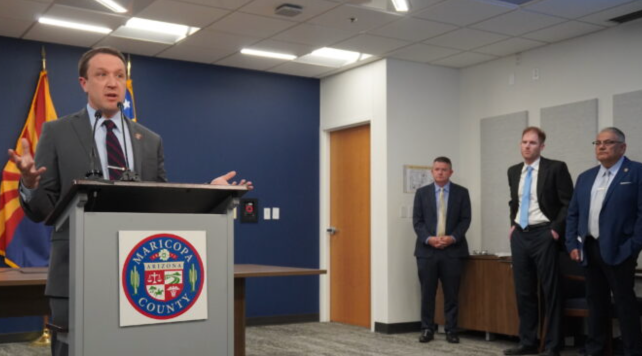 Election authorities in Maricopa County stated that voter security will be a top concern on Election Day and that law enforcement would be prepared to handle any reports of intimidation.
At a press conference in Phoenix on November 2, Bill Gates, the chairman of the Maricopa County Board of Supervisors, warned that anyone attempting to sabotage the election over the following six days would face a very serious response.
According to Gates, the county will resist social media influencers and narratives that detail how the county should count all ballots by the end of November 8.
"This is a false narrative—and it's a dangerous narrative. We're going to continue to push back against it. No state or voting jurisdiction gets the voting done in this country on election day. It's simply false. It is a blatantly false statement that, unfortunately, I think we will keep hearing. That's why we'll keep pushing back on it and talk the truth," he declared.
According to Gates, the closeness of the main seats in the election is the single factor making voter intimidation a significant problem.
A federal judge in Arizona issued a temporary restraining order against Clean Elections USA on November 1 after the group was accused of intimidating voters at drop boxes throughout Maricopa County, the state's most populated county, during the 2016 election.
The restraining order forbids associates and members of Clean Elections USA, a grassroots group promoting election integrity, from going within 75 feet of a voting machine or a structure housing a voting machine.
Additionally, they are not allowed to speak to or yell at voters within 75 feet of a drop box unless they get yelled at first.
The county recorder's office has received 821,622 early ballots as of November 2; more than 516,000 of those ballots were prepared for processing. On Friday, November 4, early voting will end.
In the midterm election, county officials anticipate receiving between 1.4 million and 1.9 million ballots, though the process of counting them would probably go on through November 9 and possibly beyond.
According to Maricopa County Recorder Stephen Richer, there will be 223 polling locations, including 13 ballot drop boxes, on election day. He said that over 2 million requests for early voting ballots from registered voters were mailed out by his office.