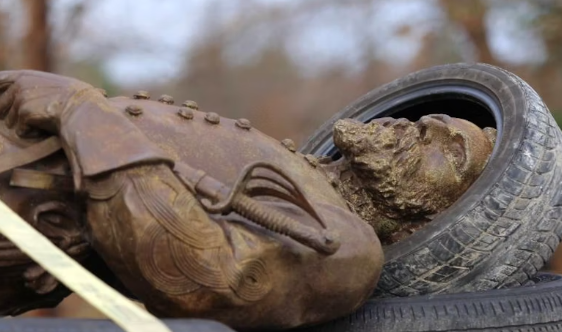 Digging up the dead body of someone who has been laid to rest is exceedingly disrespectful, aside from forensic investigators trying to solve a cold case. It doesn't matter who is buried.
Democratic Mayor LeVar Stoney of Richmond, Virginia, instructed a grounds crew to exhume Confederate General AP Hill's decaying remains.
After several hours of hand shoveling, workers unearthed the remains of slain Confederate general Ambrose Powell Hill Jr. from his tomb Tuesday, as Richmond continues its work to remove the https://t.co/W5QGe0lSka

— Herald Courier (@heraldcourier) December 14, 2022
General AP Hill's statue was removed a day prior to Stoney's action, and because his monument served as a tombstone, his body was removed the following day.
Distant relatives tried to prohibit the removal of Hill's remains, but the Richmond Circuit Court judge decided in favor of doing so.
Over two years ago, Richmond was home to more confederate statues than any city in the United States. Collectively, we have closed that chapter.

We now continue the work of being a more inclusive and welcoming place where ALL belong. pic.twitter.com/3DHUSUg2Ea

— Mayor Levar M. Stoney (@LevarStoney) December 12, 2022
John Hill, descendant of AP Hill, is retrieving the remains. Now he is engaging with onlookers who have been arguing behind the caution tape. People on both sides of the controversy yelling at one another. @NBC12 pic.twitter.com/cXAzbTy26u

— Riley Wyant (@rileywyantTV) December 13, 2022
In the past, Mayor LeVar Stoney has drawn criticism from Richmond residents for openly endorsing the BLM movement and even going so far as to publicly assert that BLM rioters who trashed various parts of Richmond were really white supremacists.
A number of protesters heckled General Hill's descendant, John Hill, who was present at the unburial.
Hill was specifically threatened by one person who said, "I'll beat you like your daddy should have."
The Gateway Pundit had previously reported on Mayor Stoney's plan to remove the statue back in 2021, but it took more than a year for the statue and the remains to be uncovered due to legal issues.