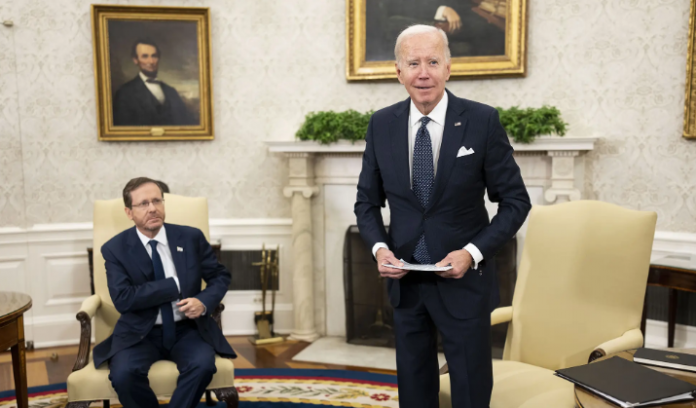 During a media briefing with Israeli President Isaac Herzog in the Oval Office on Wednesday, President Biden stunned reporters by imitating their attempts to ask questions.
Before glancing at one reporter with wide eyes and quickly moving his own mouth to replicate her effort to ask him, Biden grinned in apparent delight as members of the daily press pool screamed questions at him.
In light of the political challenges he faces ahead of the Nov. 8 midterm elections, including the worst inflation since 1981 and new GDP data that, when released Thursday, could confirm a recession is in progress, Biden's sit-down with Herzog was his second event on Wednesday where he refused to answer questions from the media.
Next month marks Biden's 80th birthday. During his tenure in office, he had a history of criticizing the media, repeating former President Donald Trump's practice of berating journalists with whom he disagreed, albeit on occasion Biden has since apologized.
On Oct. 4, as reporters were being escorted out of an event focusing on legal restrictions on abortion and contraception, Biden previously made fun of the press corps for their customary — and longstanding — behavior of yelling questions.
More than nine months ago, in January, at his most recent solo White House press conference, he implied that RealClearPolitics reporter Philip Wegmann might be illiterate when Wegmann questioned President Joe Biden about his statement that Republicans who opposed a federal election bill were "on the side of" infamous historical racists.
Days later, when Doocy had questioned him about the political effects of inflation, Biden referred to him as a "stupid son of a bitch."
By conducting a scant number of press briefings and interviews, Biden's team has also angered the media.
While British Prime Minister Boris Johnson was in the Oval Office last year, Biden declined to accept any questions from reporters, despite the fact that Johnson did so for two members of the UK press.
Biden's 42 interviews as of September 30 are insignificant to the numbers for Ronald Reagan, George H.W. Bush, Bill Clinton, George W. Bush, Barack Obama, and Donald Trump at the same stage in their presidencies: 92, 90, 86, 80, 231, and 143. Despite being shot in the lung during an attempted assassination shortly after becoming office, Reagan increased the frequency of interviews with Biden by more than twofold.