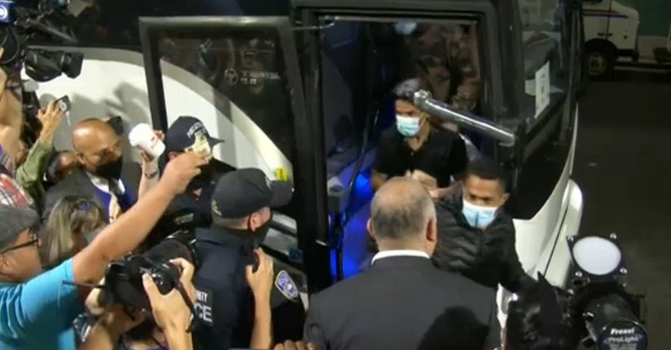 Conservatives commented on Gov. Greg Abbott's most recent busload of illegal immigrants on social media, many of them pointing out that many of the migrants were adult males.
"As has been true in most cases, the overwhelming majority of illegal aliens getting off these buses in New York and D.C. are young, adult men. Including about 90% of those who just got off this bus in New York. #BidenBorderCrisis," John Cooper, the director of communications at the Heritage Foundation, tweeted on Wednesday morning.
"Sanctuary city and free stuff courtesy of the NY taxpayer," in reaction to the news of the most recent bus carrying migrants, one Twitter user remarked.
One more wrote, "Sharing the problem! Love it!!!."
Following the route of the 50 illegal immigrants who were transported by bus to the same location on Friday, August 5, three migrant buses arrived in New York City early on Wednesday morning.
Manuel Castro, the commissioner of the NYC Office of Immigrant Affairs, accused a morally bankrupt Abbott of exploiting the bussing of migrants to the Big Apple as a political tactic intended to incite anti-immigrant sentiment as he awaited the arrival of the three fresh buses early on Wednesday.
A day earlier, Abbott was criticized by New York City Mayor Eric Adams, who said he would transport New Yorkers to Texas to campaign against the Republican governor for the benefit of the nation.
Adams' remarks were the most recent in a dispute between the Republican border states of Arizona and Texas and the liberal metropolis of Washington, DC, and New York City. By sending thousands of migrants to their cities, which the mayors claim have stretched their social services, the governors of the states have infuriated the liberal mayors.
Later on Tuesday, the Abbott campaign replied to Adams' remarks.
"Because of high taxes, out of control crime, and poor leadership by the Mayor, people are volunteering to leave New York City without the Mayor asking. It looks like Mayor Adams has taken on the additional role of political director for Beto O' Rourke."