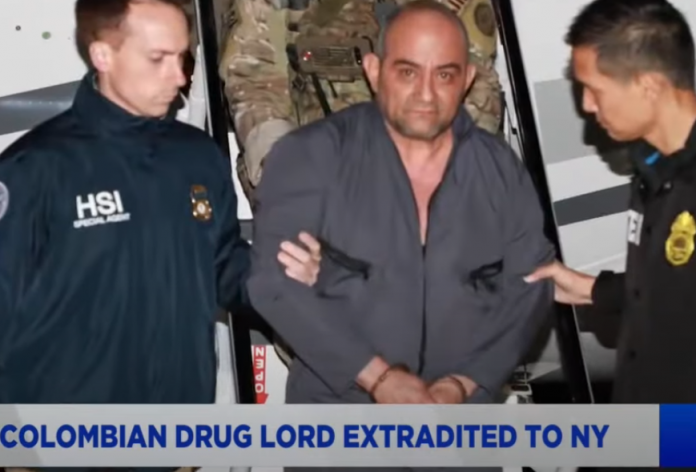 In response to its leader's extradition to the United States for trial, the Gulf Clan drug gang shut down dozens of communities in northern Colombia for four days. Anyone who ignored the order to stay at home risked being shot or having their car torched.
Businesses shut down, schools remained closed, intercity bus service was halted, and a professional soccer match was canceled as one of the teams refused to go to the game.
Following the extradition of Dairo Antonio Usuga, commonly known as Otoniel, to the United States, where he faces drug trafficking accusations, the Gulf Clan issued an armed stoppage edict via pamphlets and WhatsApp messages on Thursday.
According to reports by human rights organizations and the Roman Catholic Church, the action looked to be winding down Monday, despite the fact that the cartel remains a huge security danger after Otoniel's well publicized imprisonment last year.
The cartel's ability to shut down various towns, according to analysts, showed flaws in the government's protracted war against drug trafficking organizations.
Three civilians and three police officers were slain during the four-day lockdown, according to Colombia's Ministry of Defense, while more than 180 automobiles were destroyed for allegedly breaking the cartel's order, largely on rural roadways.
The Special Jurisdiction for Peace, which was established following the 2016 peace agreement between the Colombian government and the Revolutionary Armed Forces of Colombia rebel organization, revealed even worse figures.
In the northern provinces of Choco, Sucre, Bolivar, Antioquia, and Cordoba, 24 civilians were killed in regions covered by the Gulf Clan's halt, which it claimed compelled people to stay at home in 138 communities.
Commerce was shut down for four days in Monteria, the provincial capital with a population of over 500,000 people, and the local gas supplier ceased distributing cylinders to houses. A soccer match between the local Jaguares and a Medellin club was called off on Sunday after the visitors refused to come to Monteria for fear of being assaulted by cartel enforcers.
The Gulf Clan, also known as the Colombian Gaitanista Self Defense Forces, was created in the first decade of this century by commanders of paramilitary groups that refused to participate in a demobilization agreement that included other groups.
The Gulf Clan's most recent commander, Otoniel, has long been a presence on American soil. Most-wanted list of the Drug Enforcement Administration.
In 2009, he was charged in federal court in Manhattan on drugs charges and for allegedly helping a far-right paramilitary group that the US government had classified as a terrorist organization. Later charges in federal courts in Brooklyn and Miami accused him of importing at least 73 tons of cocaine into the US between 2003 and 2014.