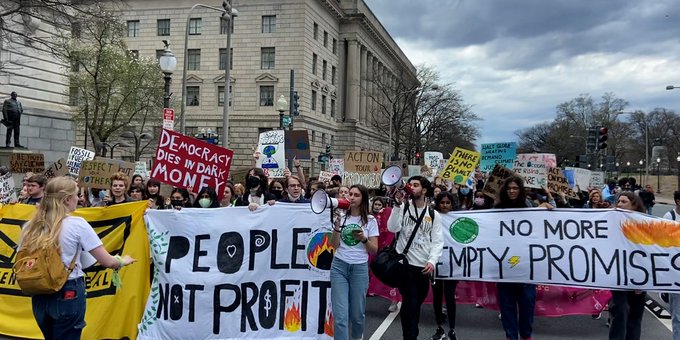 In what they claim is an effort to rescue the earth, climate change campaigners in the U.S. and throughout the world are stepping up their efforts.
Far-left protesters have glued themselves to well-known works of art, halted the building of a new pipeline, scaled buildings, obstructed rush-hour traffic, set themselves on fire, threatened to disrupt the Congressional Baseball Game, and slashed the tires of random sport utility vehicles (SUVs) in cities all over the world recently.
New Greenpeace action at the #CannesLions: 40 activists from the NGO just climbed Cannes' Palais des Festivals thanks to a giant fire truck ladder, symbolizing the climate emergency. 🔥🚒

"Fossil fuel ads are burning the planet." #CannesLions2022 #BanFossilAds pic.twitter.com/d93NCyVgLk

— Matthieu Etienne (@LLLLITL) June 23, 2022
The campaigners have contended that by not moving forcefully enough to pass legislation reducing warming, the governments of the world have let their populations down.
One of the oldest environmental groups in the world, Greenpeace, and its international affiliates have carried out a number of direct actions this year, including scaling a French venue for a significant conference, stopping a ship from leaving a Dutch port, and climbing a deep sea mining vessel in the North Sea. In response to what activists perceive to be an imminent global catastrophe, such activities appear to have increased in frequency.
As part of a concerted effort, Ward shut a valve on a pipeline in October 2016 that was carrying crude oil from western Canada to Mount Vernon, Washington. The same day, Ward and other activists switched down valves to comparable pipelines in Minnesota, North Dakota, and Montana. These activists were known as the "Valve Turners" collectively.
Following the incident, Ward, who ultimately entered a guilty plea to trespassing, told Fox News Digital that such action may be required if there is political deadlock and all other normal methods are failing.
When underscoring the urgent need for action, activists like Ward frequently use the Intergovernmental Panel on Climate Change (IPCC) reports and the so-called Climate Clock, an online tool created in 2020 to illustrate how much time mankind has left to stop global warming. For instance, after the release of the most recent IPCC report in April, Greenpeace warned that governments had better take action on climate change or else they will be forced to.