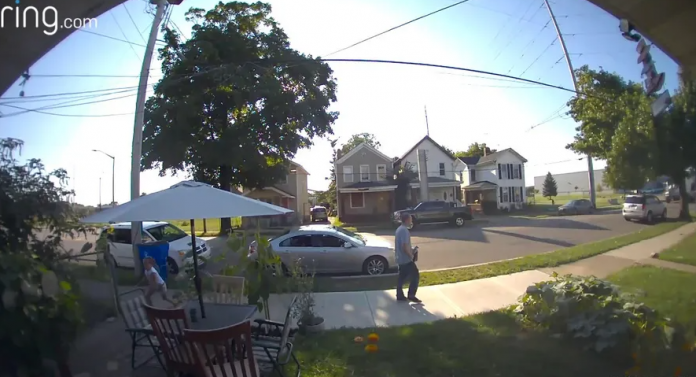 An Ohio kidnapping suspect tried to abduct a 6-year-old girl in front of her home, but she managed to flee in a terrifying scene captured on film this week.
When the six-year-old was putting out the garbage as a guy came and grabbed her by the arm, security footage from the front of the Nash family house in Hamilton, Ohio, captured the incident.
Deric McPherson, the 33-year-old suspect, was seen on video seizing the youngster before attempting to take her away.
A piercing cry was emitted by the girl as she retreated.
As soon as she managed to escape McPherson, she raced to her house and alerted her parents.
This week, the girl said to ABC's "This guy walked by and he touched me and pulled me," "Good Morning America" Because I yelled, "He just let go of me because I screamed."
Ricky Nash, the girl's father, claimed that he then hopped in his car and followed McPherson while making a call to the police.
According to police documents, McPherson was detained on Wednesday and has been charged with kidnapping and gross sexual imposition.
The Butler County Jail is where the 33-year-old is being housed, around 30 miles outside of Cincinnati.
It doesn't seem like a date has been scheduled for McPherson's court appearance.