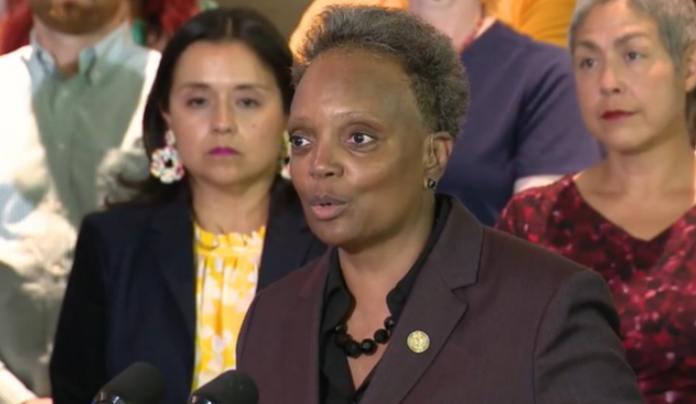 On Sunday, more migrants from Texas arrived in Chicago. Democratic Mayor Lori Lightfoot criticized Republican Texas Gov. Greg Abbott once more, accusing him of exploiting the migrants as human pawns.
After Abbott ordered two buses transporting migrants to Chicago last week, the migrants landed in the Windy City. As long as the federal government is not securing the southern border, Abbott said he will keep transporting migrants to sanctuary communities.
While welcoming newcomers, Lightfoot said she objected to Abbott busing in migrants to her city.
"My frustration comes from the actions of the governor of Texas. There could be a level of coordination and cooperation, but he chooses to do none of those things. Instead, he chooses to send human beings across the country to an uncertain destination. That's unacceptable," she said at a press conference.
Lightfoot said that the city will assist the migrants in finding housing, employment, and educational opportunities after the first two buses of migrants arrived in Chicago on Wednesday.
In her speech on Sunday afternoon, the mayor reaffirmed those points.
In reaction to the arrivals, Lightfoot declared the opening of a contribution website for the migrants. On the page, basic items like clothing, footwear, diapers, and blankets are requested. Additionally, it requests that willing people register as volunteers and provide their time.
"We have people coming as families, young children with their first taste of democracy and freedom in many instances and we need to make sure that the memory that they have of Chicago and of the United States is favorable. Regardless of where their life journey takes them, I want them to feel like in this moment that they came to this city, and we wrapped our arms around them, loved them and supported them."
Raymond Lopez, a Chicago alderman, gave off the impression that he was annoyed by Lightfoot's obsession with the illegal immigrants being brought to Chicago.
Residents of Chicago have had to contend with an increase in violent crime, which has affected both the wealthy downtown neighborhoods and the south side. Labor Day weekend in Chicago was brutal and deadly. Eight individuals have died so far and several more have been hurt in gunfire.
According to police statistics, 797 people were killed in Chicago last year, which is 25 more than 2020 and the highest number since 1996. As of August 28, murders were down 16% from last year at 444.