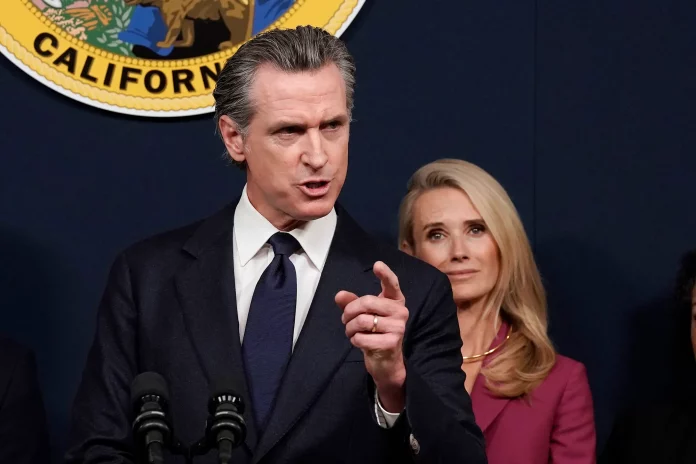 Despite Big Sky Country being one of 20 states to which the Golden State forbids official, state-funded travel due to legislation deemed discriminatory towards LGBTQ+ individuals, California's Democratic governor is relaxing this week in Montana.
On July 1, the office of Gavin Newsom made the announcement that the governor had departed California and temporarily transferred authority to Lt. Governor Eleni Kounalakis, although it was unclear where he had gone.
Tuesday night, CalMatters writer Emily Hoeven reported that Newsom had left for Montana, where his in-laws had a ranch, and that he will return to work on July 11.
Anthony York, a spokesperson for Newsom, responded by tweeting: "The travel ban applies to using state funds. The Governor's travel is not being paid by the state. Connecting the two is an attempt at gotcha journalism that is neither gotcha nor journalism. The governor is on a vacation with his family. He will return later this week."
Despite York's assertion, it was not apparent if security had accompanied Newsom and his family on their visit or how the security was paid for if it had.
Erin Mellon, Newsom's director of communications, reaffirmed to The Post on Wednesday that the travel prohibition only pertains to using state funding.
Republicans and conservatives swiftly accused the governor of hypocrisy over his travel plans.
Under Newsom's predecessor, Jerry Brown, California first put limitations on state-funded travel in 2016. In June of last year, along with Arkansas, Florida, North Dakota, and West Virginia, Montana was added to the list of places to avoid.
The issue was a bill passed by Republican governor of Montana Greg Gianforte that prohibited transgender women from playing girl's sports in schools.
Additionally included on the list of countries to avoid are Alabama, Idaho, Indiana, Iowa, Kansas, Kentucky, Mississippi, North Carolina, Ohio, Oklahoma, South Carolina, South Dakota, Tennessee, Texas, and Utah.
California does permit some exceptions, such as travel required to uphold agreements made before certain states were added to the prohibited list or to enforce state law.
Not for the first time while in office, Newsom has been charged with hypocrisy.
Despite state laws mandating everyone, including those who have had vaccinations, to wear a facial covering in situations where children are present, the governor received criticism last summer after his son was spotted uncovered during a summer basketball camp. In the end, Newsom withdrew two of his kids from the school.