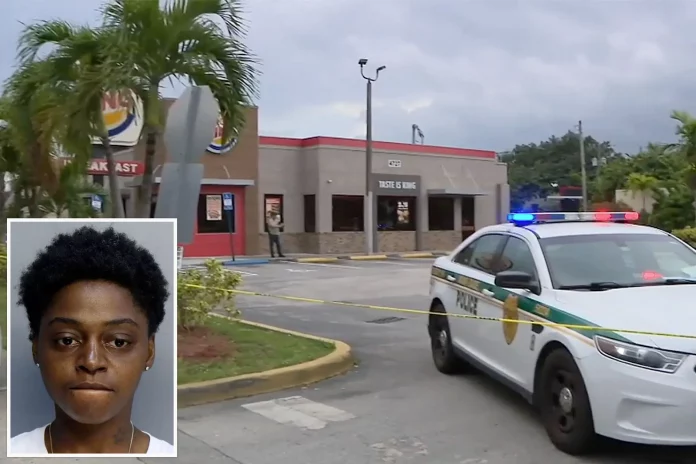 According to police and local sources, a Burger King employee in Florida allegedly shot a customer after he tossed mayonnaise in her face.
After the incident at the Miami Gardens fast-food business, Shateasha Hicks, 30, was arrested and charged with firing a handgun in public.
After an argument at the drive-thru window, Hicks allegedly opened fire on a guy, according to police.
According to a family member of Hicks, the customer she shot sprayed or threw mayonnaise in her face.
According to a witness, the customer drove away and parked in the Burger King lot.
According to an arrest report acquired by the site, Hicks then walked to her car, retrieved a gun, and fired five bullets at the person's vehicle as they drove away.
She fled the scene in her car, but was apprehended after authorities discovered her vehicle about a mile from her home, according to the report.
According to the report, a gun was discovered on the floorboard of Hicks' car, and detectives discovered five shell casings in the Burger King parking lot.
On Friday evening, Hicks was released from the Miami-Dade County jail after paying her $1,000 bond.
It's unclear whether the client, who has yet to be apprehended by investigators, was hurt in the incident.
The aunt of Hicks stated that her niece was defending herself.
According to the publication, a witness identified as Kevin was purchasing a burger at the time of the shooting and witnessed the victim making faces at Hicks.
The incident, according to a Burger King representative, was inappropriate.