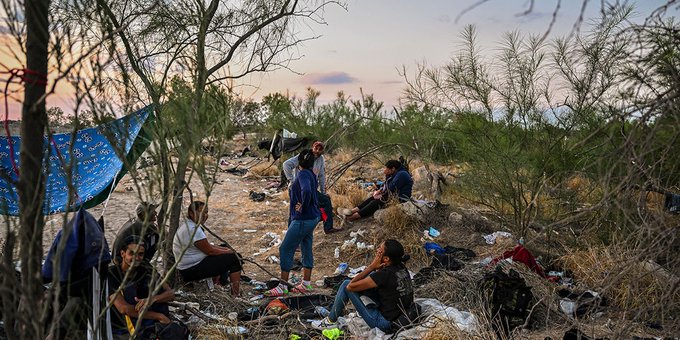 The U.S. Border Patrol is cautioning migrants trying to enter the country illegally not to do so in the midst of extreme weather that has lately claimed at least nine lives and record-breaking temperatures.
As crossing the Rio Grande has grown increasingly hazardous, Customs and Border Protection (CBP) Chief Patrol Agent Jason Owens of the Del Rio Sector issued a warning of the utmost significance to anybody attempting to enter the United States from Mexico.
The warning comes as hundreds of migrants continue to pass through the Del Rio Sector, he added.
"The currents of the Rio Grande have become more dangerous due to recent and continuing rainfall and more rain is forecasted for the coming week. Despite these adverse conditions, U.S. Border Patrol, Del Rio Sector continues to encounter more than 100+, 200+ attempting to cross the Rio Grande daily."
NEW: After recent deaths, Border Patrol in the Del Rio, TX sector issues a warning of "extreme importance" & asks migrants to "please avoid crossing illegally" due to strong river currents w/ more rain forecasted in coming days. Large groups continue crossing by the hundreds. pic.twitter.com/nUSiQBXsqi

— Bill Melugin (@BillFOXLA) September 3, 2022
The current weather patterns have resulted in at least nine fatalities, and the Border Patrol is requesting that migrants avoid entering in an effort to reduce the number of casualties.
After a large group of migrants attempted to cross the Rio Grande earlier in the week, CBP reported on Saturday that a ninth person had died. After the bodies of eight migrants were discovered, the statement was made. CBP agents discovered six, while Mexican officials discovered two.
53 migrants were detained by American officials, including 37 who were saved from the sea by Border Patrol personnel. 39 other persons were detained by Mexican authorities at the same event.
More than 200 migrant deaths were found in the Del Rio region this fiscal year, according to CBP, which reported the discovery in August.
Overall, crossings of the U.S.-Mexico border continue to overburden American immigration authorities. In this fiscal year, CBP said that it had encountered more than 500,000 migrants who have evaded immigration enforcement attempts.