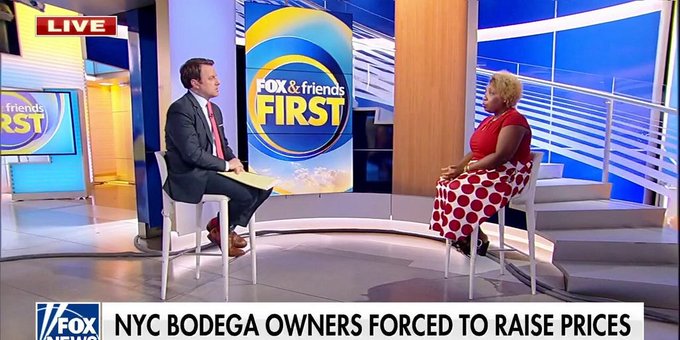 As inflation continues to skyrocket, making it even harder for her to keep the lights on in her business, a bodega owner in New York City explains why she is very angry with the Biden administration.
Brooklyn bodega owner Carmelia Bello appeared on "Fox & Friends First" to talk about how the rising cost of living has affected her capacity to stay in business.
"I am very frustrated, and I'm calling to those people out there because we're coming out from COVID, and we're not getting the support that we should get from the bigger administration, from the people that really get the money. Because we didn't get SBA loan, we didn't get no PPP loan, and we didn't get enough support. So I'm asking myself what happened to those big people, those big foundation people that can support small businesses like me?" Bello said.
In order to offset the increased costs, Bello was obliged to increase the price of her go-to bacon, egg, and cheese sandwich.
She still feels the strain from overhead costs like rent despite the price increase. She argued that renters' pressure is not being felt by landlords.
As inflation reaches a 40-year high, Americans have been struggling with skyrocketing prices at the grocery store and the petrol pump.
Despite differing definitions of a recession, the White House maintains that one is not imminent despite the Federal Reserve raising interest rates by 75 basis points this week to battle the increase.
The GDP report, whose release is anticipated for Thursday, will show whether the United States has experienced two consecutive quarters of negative economic growth—a condition historically required for the declaration of a recession.