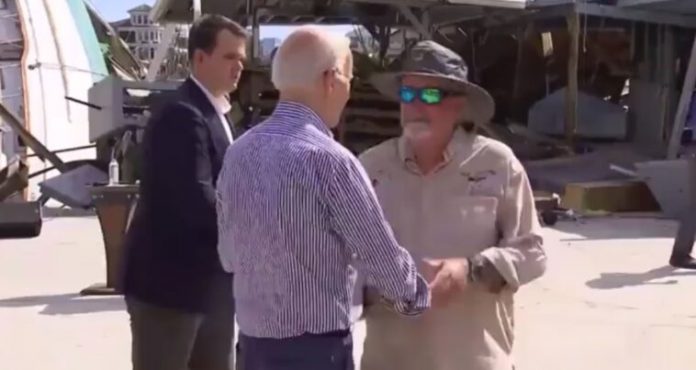 President Joe Biden had a hot mic interview while touring Florida in the wake of Hurricane Ian and shared some insight into his mindset.
The Floridian responded, "You're goddam* right.
Joe Biden's use of coarse language on the hot mic hasn't always made him seem like a fool. The moment Obamacare was passed by the Democrats, Biden yelled, "This is a big fu*king deal."
Biden's attitude also appears to extend to the FBI, which continues to ignore strong allegations that the Biden family engaged in highly illegal transactions that jeopardized national security.
In an interview, Rep. Michael Waltz provided a brief summary of the wrongdoing inside the Biden family.
Tuesday night, Hunter Biden's former business partner disclosed the FBI's resistance to his evidence of the Bidens' involvement in numerous offenses.
"For the sake of our country for national security. At that point he was a candidate, Joe Biden. Now he's the sitting President of the United States, the most powerful person in the free world. And daunting. So at the end of that five plus hour interview, the head of station, told my lawyers, 'Listen, an individual name named Tim Thibault is going to run points on all of this.' We're definitely gonna have Tony come back in for a follow up interview. Could be as early as next week."
He went on to say, "Some of the people that were in the room weren't well versed on all these facts. We may want to have people come in from Baltimore or Delaware and, you know, I was ready to sit down with anybody that needed me to or travel wherever I wanted to," he went on. "And so the head of station and gave my lawyers Tim Thibault's cell phone number."
"Tim was not there that day. I think he was out of Washington, D.C. but my lawyers had an hour, hour and a half call with him that Friday night, October 23rd. And subsequent calls through the weekend and the following week when I was then coming on your show to provide the facts to the American people. And they were supposed to be working a follow-up interview. And Tim Thibault in his last discussion with my legal counsel was, 'Listen, we know Tony's cooperating. We appreciate all the information he's provided. We will follow up with you. We're definitely going to have him come in for a follow-up interview or spend some more time on this. And I haven't heard from them since," he ended.