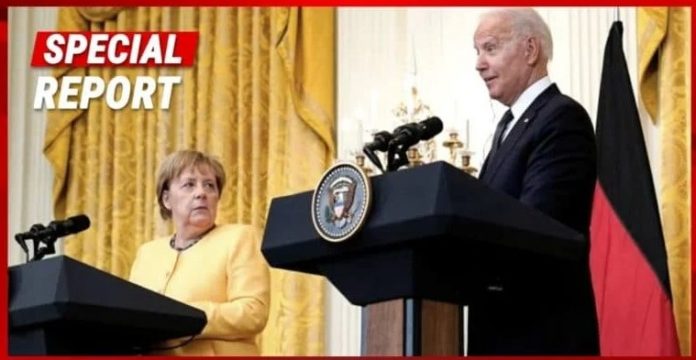 Once again, we were treated to a tired, weak, and pathetic performance by Joe Biden, "Our President".
This time, we are with the leader of Germany!
Do we really need to prove to you how inept Joe Biden is at being in charge?
He stumbles through statements every day, is easily confused and shows his frustration to the media.
Here we go again. Biden commits a huge error when introducing the leader from an ally nation.
You can watch it on YouTube here:
"PRESIDENT JOE BIDEN STUMBLED THROUGH INTRODUCING GERMANY'S CHANCELLOR ANGELA MERKEL AND SAID THAT SHE WAS THE "SECOND LARGEST…LONGEST SERVING CHANCELLOR," DURING A JOINT PRESS CONFERENCE IN THE WHITE HOUSE."
He called Angela Merkel the "second largest" chancellor in Germany. Foot. In. MOUTH.
Then he stumbles through his explanation for the socialist American family payments:
He also complains to reporters that they are asking him questions.
You're a fool if you really believe that Biden is really still all there.
He lacks the energy and vitality of a toadstool. He cannot get the words out of his mouth.
He seems completely uninterested to promote the socialist plans that he promises the country.
America should be praying often, as we will need to survive the presidency by God's grace.
It's hard to imagine what Merkel thinks right now. After having to deal with Donald Trump as a man, she must put up with Biden the sleepy puppet.
This is not good news for U.S.-German relations.
(Remember that Joe Biden was Vice President during the Obama administration and was caught spying for Merkel and her officials…oops.
We deserve a president who can match up with any leader around the world. Someone who welcomes the challenge presented by reporters
That can even complete a sentence!
The Key Takeaways
During a press conference with Merkel in Germany, Joe Biden fell several times.
He insulted and misunderstood his numbers, and complained about reporters.
This is only one of many times Biden has stumbled in public.