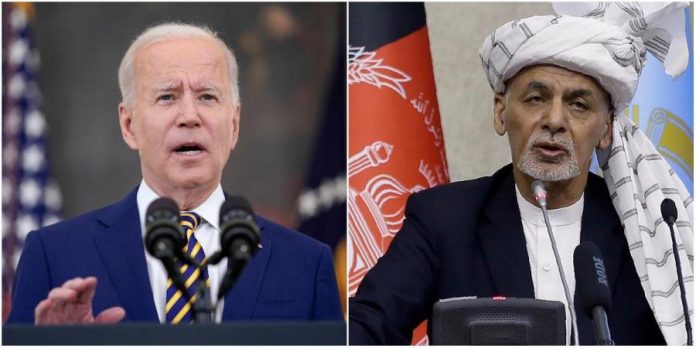 This week, President Joe Biden will meet with Ashraf Ghani (the president of Afghanistan), at the White House
As fighting between Afghanistan and the Taliban intensifies, the two world leaders will be discussing Friday's United States withdrawal from the region.
This will be their first in-person meeting. Abdullah Abdullah (chairman of the High Council for National Reconciliation) will also be attending the meeting.
The White House stated that Biden will tell the leaders that the U.S. will continue its support for Afghanistan's people with diplomatic, humanitarian, and economic assistance. According to reports, the president will assure leaders that Afghanistan will not become a safe haven for terrorist groups.
The White House released the following statement:
"The President Ghani's visit and Dr. Abdullah's will be a reminder of the long-standing partnership between Afghanistan and the United States as the military drawdown continues."
The Taliban have been able to take over at least 30 districts in Afghanistan since April. This was in response to Biden's September 11th announcement that all U.S. forces would be leaving Afghanistan.
The Taliban have worked hard to increase their influence in Afghanistan since the U.S. began to withdraw troops on May 1st. America closed down some of their military bases and handed them over to the Afghan government for control.
In the media, the Taliban have also increased their rhetoric. The Taliban's spokesperson Zabihullah Mujahid said that the talks between Biden and Ghani were "useless".
"They (Ghani & Abdullah) will speak with U.S. officials to preserve their power and personal interests." It will not benefit Afghanistan."
Ghani will seek assurances from the United States that it will continue to support Afghan security forces even after American troops leave the country, according to a senior Afghan official.
Representatives of the Taliban and Afghan government have been trying to reach an agreement in recent talks in Qatar. However, that has not produced any tangible resolution.
Officials from the Afghan government claim that the Taliban has not submitted any written proposals for peace. This could be used as a starting point to real talks.
Many people criticized Biden's sudden decision to withdraw all troops from Afghanistan quickly after he made it.
Many intelligence analysts in the U.S. believed that the Taliban would "roll back much" of the progress made in Afghanistan for women's rights if they regain power at the national level. This is something they are currently working on.
Additionally, Afghans who worked for the U.S. during American troops in Afghanistan are concerned that a Taliban insurgency will target their families and other civilians as retribution for aiding foreign governments.