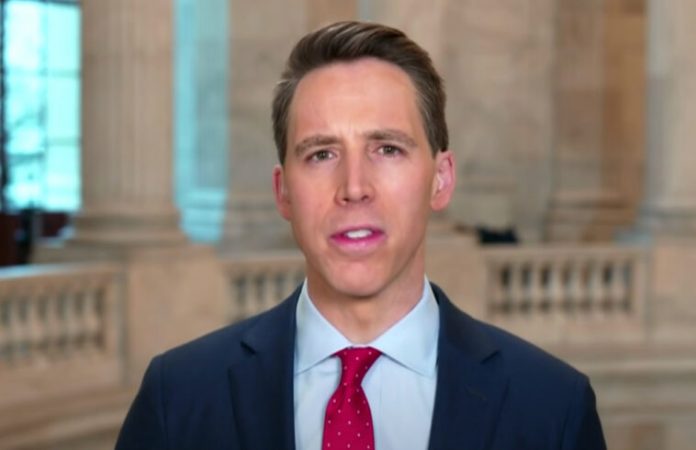 One Republican lawmaker is working to make America safer, despite Democrats trying to defund police.
Missouri Republican Senator Josh Hawley announced Wednesday that he had made a great move to hire 100,000 police officers to keep Americans safe.
Hawley stated in a news release that American families aren't safe but that they should be. They can be, if they will just act.
"Senator Josh Hawley (Republican from Missouri) spoke ahead of President Biden's Wednesday address about the spike in crime across America. Hawley stated that he had created his own legislative agenda to create 100,000 police officers, increase police morale and keep American families safe.
"Communities and law enforcement officers are being threatened by violent crime that continues to plague the country. Homicides in American cities are on the rise and violent crime is at its highest level for generations. He said that police departments are currently facing budget cuts of millions of dollars, violence against officers is on the rise nationwide, and low morale is making it difficult for departments to recruit new officers."
"American families aren't safe but they deserve to be. They can be, if they will just act. It is not the right time to defund or to vilify the police, but to support brave men and women wearing blue and to put more on the streets. He said, "It is urgent."
Violent crime is surging across the country. Our families need protection. Our cops need support. We should raise officers' pay and put 100,000 new cops on the beat

— Josh Hawley (@HawleyMO) June 23, 2021
Here are some key points from Hawley's news release:
Senator Hawley has introduced the following legislative agenda in response to America's crime wave, unprecedented assault on America's law enforcement officers and other concerns:
100,000 New Law Enforcement Officers: A bill that provides grants to local communities for the support of hiring 100,000 more law enforcement officers to protect American families.
Protection of law enforcement in the line of duty: A bill to increase the maximum penalty for assaulting federal officials by 50%
Protection of Federal Judges, Prosecutors, and Law Enforcement Officers against Violence and Doxing: A bill that directs DOJ and DHS to create programs to protect judges, prosecutors, and other law enforcement officers' privacy and personal data.
Doxing is a threat to Federal Law Enforcement Officers A bill to double the punishment for doxing federal law enforcement officers and other federal officials
Federal Courthouses and Judges: Protecting Federal Courthouses: A bill to increase penalties in the case of damage to federal courthouses and to deny unauthorized access to areas where federal judges reside work or visit.
Promotion of concealed carry rights for law enforcement officers: A bill to amend Law Enforcement Officers Safety Act to allow concealed carry to be extended to federal judges and prosecutors
Additional Support for Police Officers: A bill to expand Senator Hawley's "Previously Passed" "Supporting and treating officers in crisis Act of 2019″By increasing federal funding for family services and stress reduction, suicide prevention, as well as other programs for federal officials.
Protection of law enforcement from targeting: A bill that creates a separate criminal offense to target someone based on their status in law enforcement.
Protecting Law Enforcement From Ambush: A bill to increase the criminal penalties for ambushing enforcement officers.
Despite Democrats trying to defund police, Americans will appreciate Hawley's efforts to ensure safety in communities across the country.