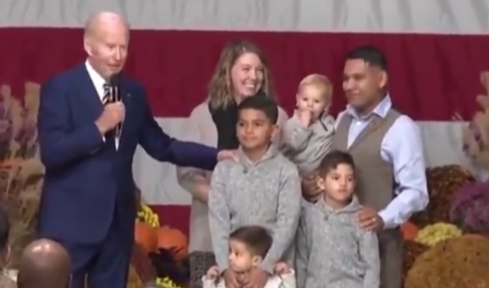 In order to avoid hearinf a tedious speech about Thanksgiving to Marine Corps members in North Carolina on Monday, President Biden suggested to a young kid that he go steal a pumpkin.
When he approached the oldest of four children, whose Marine Corps mother had just introduced the president, Biden, 80, made the unexpected attempt at comedy.
While his mother talked and his father held the family's wriggling infant, the well-behaved youngster had been watching over two of his three younger siblings.
"This has to be boring, boring, boring for these kids who are standing up here. You're allowed to do anything you want to do, including go steal a pumpkin if you want — anything you want to do," the president said to the kid.
Instead, the child decided to formally listen to the president.
Following his morning turkey pardon, Biden continued to try to be humorous by telling the Marines that they came because the chef isn't awful at the Marine Corps Air Station in Cherry Point, North Carolina.
In a more somber tone, Biden spoke to the soldiers about his late son Beau Biden's military service overseas and thanked the soldiers' families for having to put up with their absence.
After finishing, the president took a selfie with the family on his phone and whispered something into the baby's ear before wearing an apron and scooping mashed potatoes for an assembly-line buffet while first lady Jill Biden handled stuffing.
Before greeting the troops and settling down to talk to them and take pictures, the president was quickly given a bowl of what appeared to be ice cream.