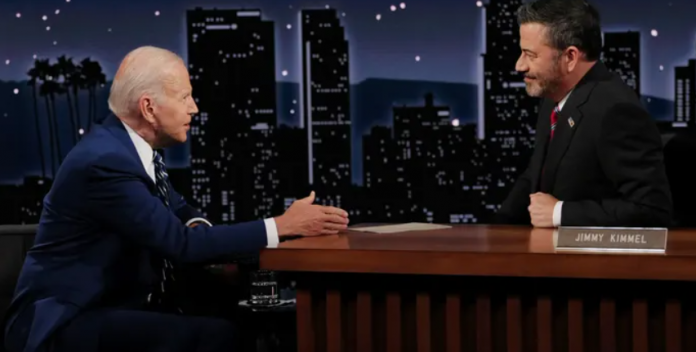 On Wednesday night, President Joe Biden had his first network interview in 118 days on "Jimmy Kimmel Live!"
The president began his debut visit on a late-night talk show by speaking with comedian and presenter Jimmy Kimmel on gun control initiatives.
"A lot of it is intimidation by the NRA. Look, this is not your father's Republican Party. This is a MAGA party."
The president discussed his recent visit to Uvalde, Texas, where 19 students and two instructors were killed at Robb Elementary School.
"I met with every single family member of all those kids killed, and those teachers killed in Uvalde, Texas. The stories they told and the pain you could see on their faces," Biden added.
Kimmel then asked Biden about the likelihood of issuing a gun-control executive order, claiming that previous President Donald Trump distributed them like Halloween candy.
"I have issued executive orders within the power of the presidency to be able to deal with everything having to do with guns, gun ownership, all of the things that are within my power." the president said.
He went on to accuse Trump of violating the Constitution and stated that he does not want to follow in the footsteps of his predecessor.
The president then charged Republicans of endangering democracy.
Kimmel then told Trump that he believes Democrats are angry because they won the House, Senate, and White House but have made no progress on gun control, reproductive rights, voting rights, and climate change, claiming that we've gone backwards in some ways.
Biden reacted by stating that they had made some genuine progress on climate change. He mentioned initiatives to promote solar, wind, and electric cars.
Despite the fact that Americans are confronting record-high inflation and increasing gas costs, the president offered a favorable image of the current economic situation in the United States.
He acknowledged that inflation is the misery of our life and stated that he will seek to reduce the cost of health care, prescription pharmaceuticals, and child care.
Biden told Jimmy Kimmel that he has never been more positive in his life, claiming that American youth are the best educated, least prejudiced, and most kind generation in the country's history.
Biden's participation on "Jimmy Kimmel Live!" comes at a critical juncture in his presidency. In an AP-NORC survey towards the end of May, Biden's approval rating fell to 39 percent, his lowest since taking office. Only 28% of Americans favor Biden's management of inflation and 27% approve of his approach to rising gas costs, according to an ABC-IPSOS survey released on Sunday.
The president had a 63 percent approval rating in an AP survey taken around the same time last year, which was 24 points better than his May 2022 number.