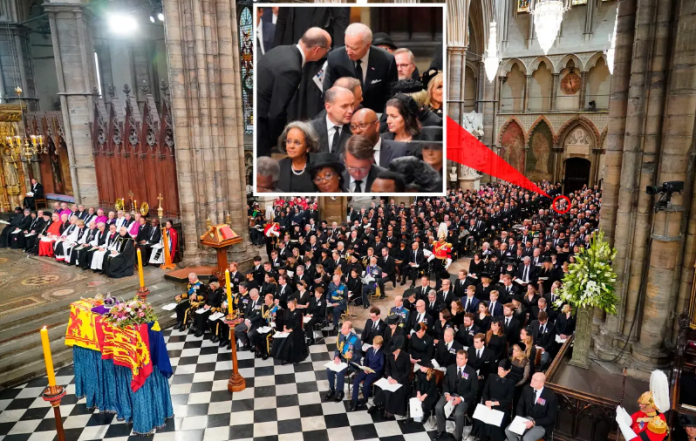 President Biden may be the most powerful person in the world, but that didn't guarantee him a front-row seat for the funeral of Queen Elizabeth II on Monday in London.
A total of 2,000 people attended the service at Westminster Abbey, including 500 presidents, monarchs, princes, and prime ministers from around the world. The president and first lady Jill Biden were sitting 14 rows in the back.
The fact that the pair was one of the few dignitaries who was permitted to travel in their own presidential limousine, known as "The Beast," for security purposes, may have been taken into account.
Due to intense security and traffic closures in London, the majority of international leaders, including the prime minister of Canada, Justin Trudeau, were shuttled to the funeral.
The Bidens appeared to arrive later than expected as a result of taking their own vehicle and getting stuck in gridlocked traffic.
The president and first lady were delayed in taking their seats after they arrived outside Westminster so as not to disrupt the beautifully staged burial.
A parade of people carrying the George and Victoria Crosses, the highest military honors, entered the monastery while the couple had to wait outside the church.
According to the seating arrangement made public on Monday, Biden was positioned in front of Petr Fiala of the Czech Republic and behind Polish President Andrzej Duda.
Ignazio Cassis, the president of Switzerland, was seated next to Jill Biden.
The leaders of Commonwealth nations and those who still regard the UK monarch as their head of state were placed higher on the food chain.
Biden was not granted as prominent seats inside the abbey as Trudeau, Australian Prime Minister Anthony Albanese, or New Zealand Prime Minister Jacinda Ardern.
The Queen's service served as the nation's first state funeral since Winston Churchill received the distinction in 1965.