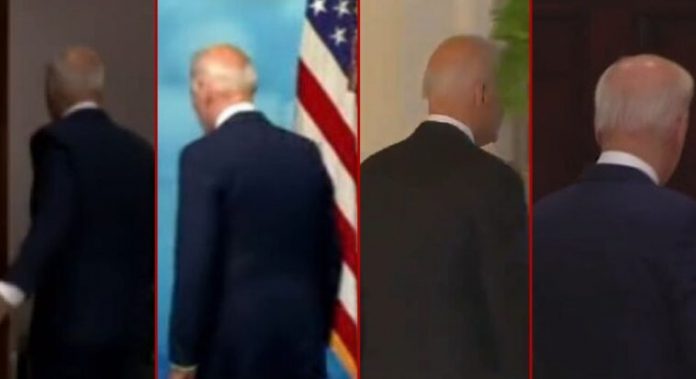 Biden finally appeared at his press conference. He predicted that all Americans could be evacuated by August 31, the Taliban-imposed deadline, which the administration readily accepted.
"The sooner we can finish the better," Biden stated, he continued by saying "each day brings added risk to our troops." It was more optimistic, than a clear-eyed, substantive assessment of the precarious situation facing Americans stranded in Afghanistan.
The president arrived five hours later than expected at the press conference. He opened the event with a talk about his administration's accomplishments, including the Build Back Better program, and the American Rescue Plan. (apparently, Biden's speechwriters didn't see the irony in mentioning the spending program for Americans in danger).
The president, once again, turned his back on reporters and the American people who waited patiently for him to show up to the press conference, which was initially scheduled for noon eastern.
This is the fourth instance in the past week where Biden has turned his face away from the press and Americans seeking answers. After remarks made Monday about the Covid-19 vaccine, the president did it.
Reporter: "How many Americans are left in Afghanistan, Mr. President?"

President Biden: pic.twitter.com/RzedDLR2zE

— Chad Gilmartin (@ChadGilmartinCA) August 23, 2021
It was also done by the president last Wednesday
Joe Biden leaves right after making his booster shot announcement without taking any questions. pic.twitter.com/0dWqHi09Gc

— Justin Baragona (@justinbaragona) August 18, 2021
Biden left August 16 meeting without making any remarks.
While flanked on Friday by Vice President Kamala Harris, Secretary of State Antony Blinken, the president took questions.
However, he did not take remarks on August 16 before departing for Camp David. The White House insists Biden isn't avoiding questions.
Today's White House press conference saw Jen Psaki, White House Press Secretary, admit that the Biden administration "expects some Americans to be stranded" in Afghanistan.
Biden's administration failed to push the Taliban to be moved by the extension of the August 31 deadline for all Americans to leave Afghanistan. Terror leaders warned of "consequences" for the United States if they fail to complete all evacuation and extraction missions within that time limit.
"A Taliban spokesman says the U.S. must complete its evacuation of people from Afghanistan by the Aug. 31 date the Biden administration set for the withdrawal of all U.S. troops," the AP reported. "The Taliban say they will accept 'no extensions' to the deadline."
As the U.S. military had already begun leaving Afghanistan after 20 years of war, the embassy issued a "last warning" to Americans. Thirty minutes later, the embassy retracts the alert.