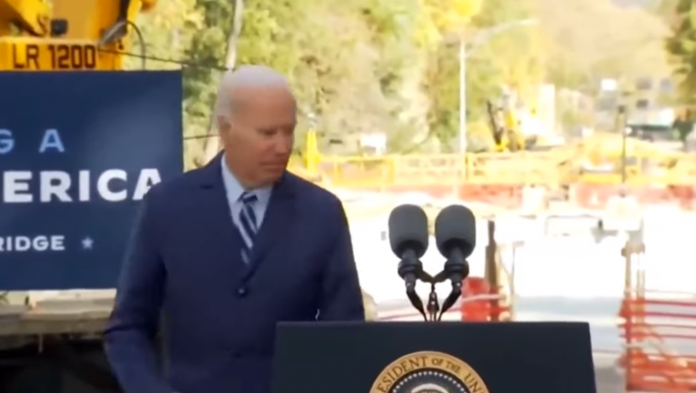 Biden is once again giving speeches across the nation, which means he will once again make mistakes that will make it painfully clear how mentally unfit our Commander in Chief is and how senile he is. That's not good under any circumstances, but it's especially bad right now since a nuclear exchange with the Russians appears to be more likely than it has in a very long time, and the Chinese are undoubtedly planning to send a flotilla across the Taiwan Straight.
We're getting some amazing videos of President Biden looking like a malfunctioning robot because it seems to be all he's capable of in any case. We received two excellent ones yesterday, thanks to Benny Johnson of Turning Point USA.
Biden wraps up his statement, moves to his left, appears perplexed, moves back toward the podium, appears even more perplexed, spins around a few times, and then exits the stage in the same direction as when he first entered.
How does he manage to get lost every single time he speaks?

pic.twitter.com/O2MEh1Dkvo

— Benny Johnson (@bennyjohnson) October 20, 2022
Another video shows Biden speaking to reporters and asserting that he was in high demand after once again entering a building while appearing to be a lost dog.
Joe Biden always looks like a lost dog pic.twitter.com/L6EMi9WaIX

— Benny Johnson (@bennyjohnson) October 21, 2022
People posted their thoughts on this on Twitter. One person said, "If they just had a young girl with hair standing where he needs to walk, he'd never get lost."
Another one pointed out, "I can't believe the people responding back that "he's on leave him alone and all the other reasons they come up with to defend him. This is your country too, you like paying a lot more for food and gas and any work you need done has tripled in amount, just admit it."
And to sum it up with a post, "I don't know where I'm going." Yeah, neither does the country with Biden 'in charge."