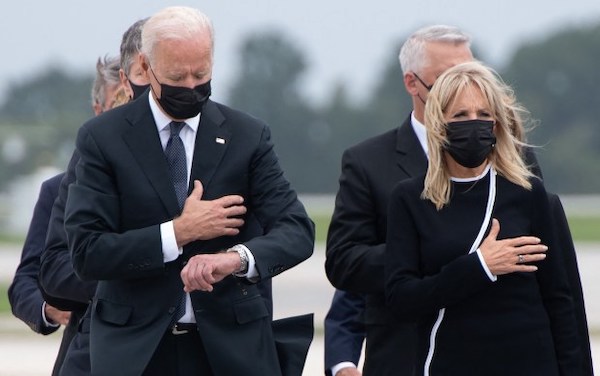 A new report claims that President Joe Biden was humiliated by a woman as he left Dover Air Force Base, after meeting with his family and the families of American troops who were murdered at Kabul's airport by a suicide bomber after Biden allowed the Taliban takeover.
The woman, who was reportedly a sister of one of the soldiers that was killed, shouted at him as he left, telling him to "burn to hell!"
According to Mark Schmitz (the father of Jared Schmitz, 20 years old), the woman screamed "I hope you burn in hell! That was my brother!". His Son Jared Schmitz was also killed in the attack.
Schmitz also unleashed a tirade on Biden, saying that he only talked about himself and his son and spent little time focusing attention on Schmitz's son Jared.
"When he just kept talking about his son so much it was just — my interest was lost in that," Schmitz said. "I was more focused on my own son than what happened with him and his son. I'm not trying to insult the president, but it just didn't seem that appropriate to spend that much time on his own son."
Roice McCollum, the sister of Rylee, was killed in the attack. She also criticized President Biden while speaking to The Washington Post.
"He cannot possibly understand. My dad and I did not want to speak to him. You cannot kneel on our flag and pretend you care about our troops. You can't f*** up as bad as he did and say you're sorry. This did not need to happen, and every life is on his hands. The thousands of Afghans who will suffer and be tortured is a direct result of his incompetence."
Darin Hoover, another father to the soldier who died, joined Sean Hannity, Fox News host, to criticize Biden's insistence on checking his watch throughout the ceremony.
"It's the absolute worst feeling in the world," Darin Hoover said to Hannity. "Having them be away for so long, and doing the job that they all love, there is no doubt about it. Being a Marine to these guys is everything. And having this happen to these heroes. Every one of them is a hero. Every last one of them. They died with their brothers and their sisters right next to them. Doing exactly what they all wanted to do. And that is defending this country."
"You chose not to meet with President Biden," Hannity said. "I don't know if you want to comment on that. When I saw Biden look at his watch, I was literally like you've got to be kidding me, because all of this to me was preventable. Because we saw them on the march. You know, we had April, May, June, July, to extradite everybody and our equipment. We didn't do it. Why did you choose not to meet with the president?"
"For exactly the reasons you just gave," Hoover. "We said absolutely not. We didn't want to deal with them, we didn't want to we didn't want him anywhere near us. We as a family decided that that was the way it was going to be."
"In reference to the checking of his watch, that didn't happen just once," Hoover remarked. "It happened on every single one that came out of that airplane. It happened on every single one of them. They would release the salute, and he would look down at his watch on every last one. All 13, he looked down at his watch."