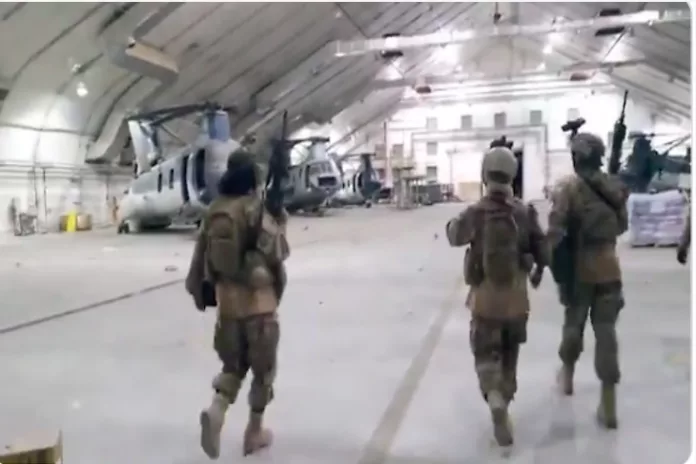 This is really something to report — We have to credit Nabih Bulos (Los Angeles Times foreign correspondent) for it.
Bulos decided to stay at the airport to cover what happened as the Taliban went into the formerly American-controlled area after the U.S. flew out for the last time.
It was remarkable to see how the Taliban dressed up like Special Forces, with probable American weapons that they had acquired since the pullout began. They entered a hangar to examine the helicopters left behind by the U.S. just minutes before they left. This video has been viewed over 3 million times.
"We're here right now with the Taliban as they enter…what was only minutes ago…an American-controlled portion of the military airport," Bulos said as he walked with them in the video. "Now, they've taken over."
#Taliban fighters enter a hangar in #Kabul Airport and examine #chinook helicopters after #US leaves #Afghanistan. pic.twitter.com/flJx0cLf0p

— Nabih (@nabihbulos) August 30, 2021
Later, people corrected the claim that the helicopters were called "Chinooks", noting that they were actually CH-46 Sea Knights. They had been reportedly rendered inoperable.
This is a hangar at Apron 10 on the military side of Hamid Karzai International Airport. Two weeks ago, these four CH-46 Sea Knight helicopters (incl. Embassy Air's N431WR and N701WN) were involved in the evacuation of the U.S. Embassy. https://t.co/jRrCe9dGqX

— Christiaan Triebert (@trbrtc) August 30, 2021
Although the aircraft were apparently disabled, it is still disconcerting to see them there with the hangar intact and not blown up. They are carrying military equipment and weaponry. It is hard to imagine how they could use it for evil in the future. Although it's not clear how much equipment and weaponry they acquired during the American withdrawal, reports suggest that there was quite a lot.
The Taliban's new $85 billion arsenal.

Scary to see the weapons now available to them and potentially to all their Jihadi colleagues worldwide. pic.twitter.com/BwN5FaA4Eq

— Hillel Neuer (@HillelNeuer) August 29, 2021
Unfortunately, the Biden team also left something behind even more important than disabled planes and helicopters — Americans and Afghan allies who are still trapped — and there's no way they can disable our memory of that.
really thrown off by the fact the taliban have gone from headdresses and tunics to looking like they just stepped out of "Sicario." https://t.co/n3nCniefOY

— tsar becket adams (@BecketAdams) August 31, 2021