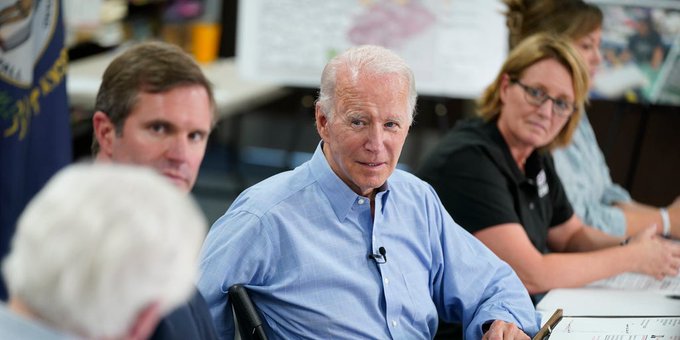 In a visit to assess flood damage that has killed close to two dozen people, President Biden spoke of the devastating destruction in Kentucky and said the natural calamity was tied to climate change.
In order to assess the floods that claimed at least 37 lives last week, Biden arrived in Kentucky on Monday. Biden and First Lady Jill Biden are viewing the destruction and visiting with Democratic Kentucky Governor Andy Beshear this afternoon.
Biden mentioned climate change as a contributing factor to several tragedies that have happened since he entered office during an open press briefing.
The president commended first responders and the quick state, municipal, and federal responses to the disaster while sharing the terrible tales of people whose homes were destroyed and whose lives were upended.
"And you think of how incredibly heartbreaking it is for people– as you look at those creeks and streams that are now running brown. And you see from the helicopter, you see, automobiles, everything from buses to automobiles to homes, literally in the middle of the water on the side of the road. And you think to yourself, what in God's name happened to those 37 now? Thirty-eight people who are dead, you know, and you hear about the grandmother and granddaughter who climbed for 16 hours to get out of the way and ended up in trouble."
During a news conference while traveling to the commonwealth, White House press secretary Karine Jean-Pierre said that the floods is simply another indication that climate change is worsening natural calamities.
More than 400 members of the National Guard have been sent by Beshear to the impacted area. The state has seen 100-degree temperatures and soaring humidity in the days afterward, providing little relief to victims who lost their homes.
Around 1,300 individuals have been saved by first responders so far from the rubble of destroyed villages.