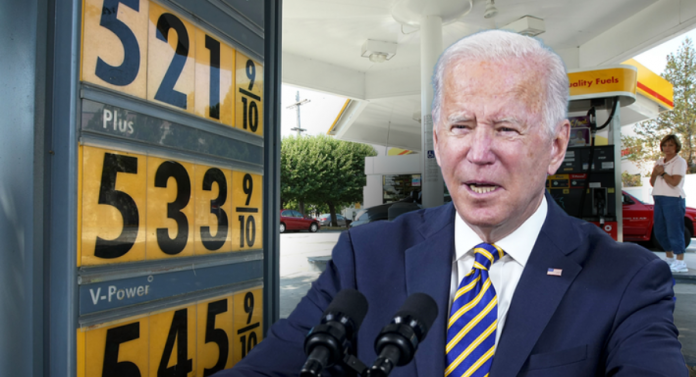 President Biden will ask Congress on Wednesday to defer the federal gas tax until September as Americans around the country battle with skyrocketing costs as the pump.
The president will lobby Congress to enact a three-month federal gas tax vacation without depleting the Highway Trust Fund, which pays for roads and public transportation.
A senior administration official stated on Tuesday night, "I want to be very clear, the president is calling on Congress to take this step to help American families without harming the Highway Trust Fund, which is funded by these taxes,"
The official said that since the federal government's budget deficit is expected to decrease by $1.6 trillion this year, the United States is free to suspend the gas tax while utilizing other revenues to cover the roughly $10 billion cost to the Highway Trust Fund.
According to the official, taxes levied by the federal government are presently 18 cents for regular gasoline and 24 cents for diesel per gallon.
Biden will also urge governments, energy corporations and merchants to freeze gas taxes. The Penn Wharton Budget Model published estimates Wednesday suggesting that gas tax holidays in Georgia, Maryland and Connecticut saved consumers money at the pump. Instead of service stations and other businesses in the energy industry, most of the savings in these sectors passed to consumers.
The cost of gas began to climb last autumn and continues to rise following Russia's invasion of Ukraine in late February, while the administration is presenting the increase in gas prices as the Putin price hike.
"Biden believes that states, oil companies and retailers have a responsibility in this unique moment – to do their part to ameliorate Putin's price hike," the source added. "He's calling on states to suspend their gas taxes or else find other ways to deliver the same relief, such as consumer rebates or relief payments."
The insider said that when oil prices start to fall, the president is pressuring the gas business and oil merchants to drop gas prices.
In a letter to Biden last week, the American Petroleum Institute and the American Fuel & Petrochemical Manufacturers stated that refineries were already operating at or near their maximum capacity and that the conversion of the facilities to the production of renewable energy was responsible for nearly half of the capacity loss.