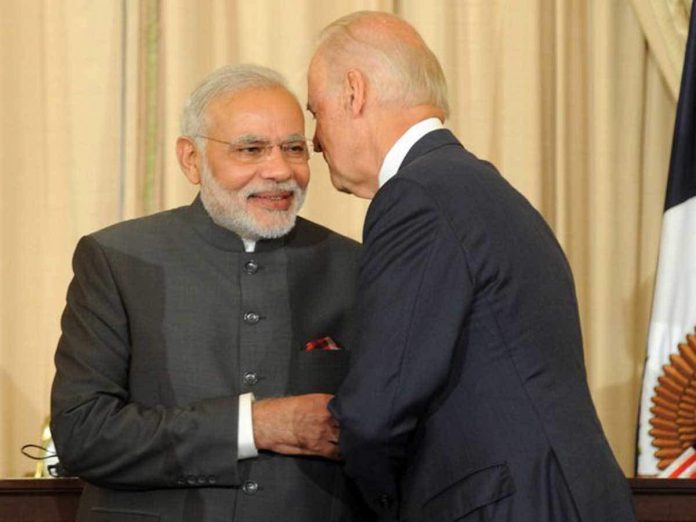 On Friday, President Joe Biden stopped reporters from asking questions to Indian Prime Minister Narendra Modi. He told the foreign dignitary that he would not take questions from the Oval Office press pool.
According to Breitbart News Biden's disagreement with the reports occurred during a week in which he was hosting several international figures at White House. He discouraged interaction between journalists, officials, and reporters,  saying, "I think, with your permission, you could not answer questions because they won't ask any questions on point," Biden told Modi, referring to the American press.
In addition to asking the prime minister to not interact with the reporters, the president talked to Modi about how he didn't appreciate the way the American press had been conducting themselves in recent months:
"The Indian press is much better behaved than the American press," Biden stated. "I gotta watch out; they'll knock one of those down."
Additional questions regarding Biden's comments are somewhat obscured by the fact that the White House did not include Biden's inflammatory remarks about the press in its official transcripts of the interaction.
This is the latest infraction by the president with regard to the White House Press Corps, whom he continues to dodge and sometimes avoid questions at the White House.
MOMENTS AGO: Staff orders news media to leave The White House as UK Prime Minister Boris Johnson speaks mid-sentence pic.twitter.com/MXg2m0o1hq

— Breaking911 (@Breaking911) September 21, 2021
Biden's remarks came after a Tuesday snub by the president during which he frustrated reporters at a meeting with Boris Johnson, the United Kingdom Prime Minister. Johnson called for two reporters from the United Kingdom.
According to Breitbart News, Johnson was officially blamed by the White House for the conflict. The prime minister didn't inform staff that he would be answering questions. However, Biden wasn't upset about the snub.
CBS White House correspondent Ed O'Keefe questioned White House Press Secretary Jen Psaki Wednesday, asking why the Americans were ignored.
"I think our relationship with the United Kingdom and with prime minister Johnson is so strong and abiding, we'll be able to move beyond this," she added. "But he called on individuals in his press corps without alerting us to that intention in advance."
When asked how Biden feels about the slight she replied "I think the president has not spent a moment worrying about it."
Reports indicate that journalists present were "visibly disturbed" by Biden's aides calling for them to leave the room. At one point, they shouted over President Obama's attempts to answer a question. According to reports, journalists went to the office of the press secretary to register a formal complaint that no American journalists were being recognized for questions at the Oval Office.